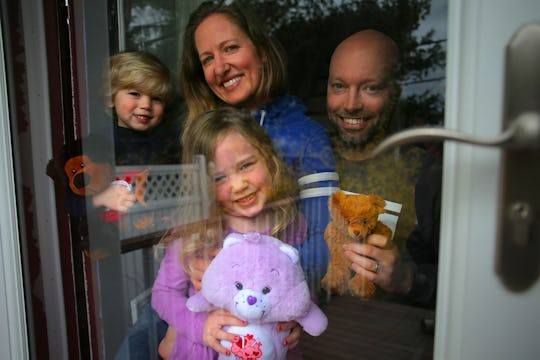 Boston Globe/Boston Globe/Getty Images
These 10 U.S. Neighborhoods Are Making The Most Of Quarantine & It's Inspiring
For many people, it's hard to feel celebratory when you're shuttered in. The daily news reports are enough to send you social distancing straight into next year — or beyond. You might even be feeling more anxious and stressed as you try to juggle all of the newfound responsibilities that have been placed on your shoulders (homeschooling, anyone?) while still struggling to smile. But there are many places on the planet where neighbors are joining together to put a positive spin on the pandemic, including these 10 towns, cities and neighborhoods in the U.S. making the most of quarantine.
If you thought that being neighborly would take too much effort, think again. Many of the things that communities are doing to help each other out don't take a lot of effort, and you might be able to do them with your child, too. Experiences like these will help teach your child to think about something other than themselves, and hopefully instill a sense of caring for their community that lasts a lifetime.
While there is so much to make you scared during the pandemic, take a cue from these people who are coming together to do some good and focus on hope instead. Maybe your neighborhood can follow in their footsteps.