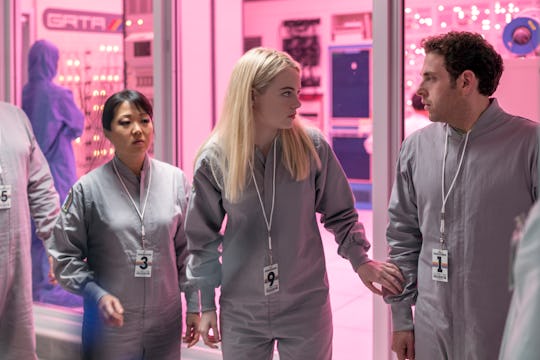 Michele K. Short/Netflix
These Are Some Of The Best New Netflix Shows From 2018 To Watch Right Now
Netflix is doing better than ever at rivaling big network TV shows with its original programming. With each new series that pops up in my suggested shows, I'm one step closer to getting nothing productive done because I want to watch them all. And by now, I've already watched and theorized ad nauseam about so many of the best new Netflix series of 2018.
Netflix is known for churning out all kinds of content on a regular basis. For some TV networks, that might mean a decrease in quality. Not so with Netflix. Minus a few missteps, pretty much every new show the streaming platform debuts is better than the last. And with all that new content in 2018, you can only hope that 2019 brings renewals (I'm definitely guilty of googling about a second season before I've finished Season 1).
Whether it's reality TV you're after in the form of a cooking show like Salt Fat Acid Heat (when is Season 2 of this?) or a mysterious horror series like The Haunting of Hill House (same question), Netflix had you covered in 2018. If you're looking for a recap of 2018's best of the best, here is my (totally subjective and correct) best-of list.