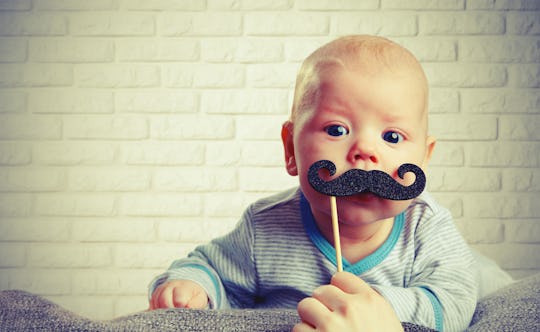 JenkoAtaman/Fotolia
10 Of The Cutest Hipster Baby Costumes For Your *Cray Cray* Halloween
There is a very small window of time in your child's life when they don't really have a say regarding their Halloween costume. My daughter's 2-yeas-old and I have a feeling this is the last year I can dress her up without her input, so you can bet I'm going to make this Halloween count. That's exactly why I've been researching the cutest hipster baby costumes, because there's no sense in dressing her up as Frozen's Elsa when she doesn't even get a vote yet. We have many years ahead of us for her to want to be a ballet dancer or superhero or some character from Sesame Street. Until then, I'm going to be annoyingly adamant about what my daughter wears on Halloween, and this year we're going for easy, clever, and adorable.
Which, by the way, is a difficult combo to come by. Cute is easy when kids are little, but clever is a little more difficult to come by when your mini-me is, well, mini. Thankfully, these eight hipster baby costumes are cute, clever, and easy to put together with minimal DIY skills required. You can put assemble most of these costumes with just a little face paint and regular kids' clothes. In other words, you can leave the felt and glue at home if that's not your style, and my friends: that is the Halloween dream when you're a parent. Easy? Clever? Adorable? Check, check, and check.
But don't forget, once you've chosen the perfect hipster baby costume, you've got to have the perfect hipster parent costume to match! So while you wax nostalgic and think trendy thoughts in regards to your own costume, here are a few options you can consider for your little one this year. YOLO, right?