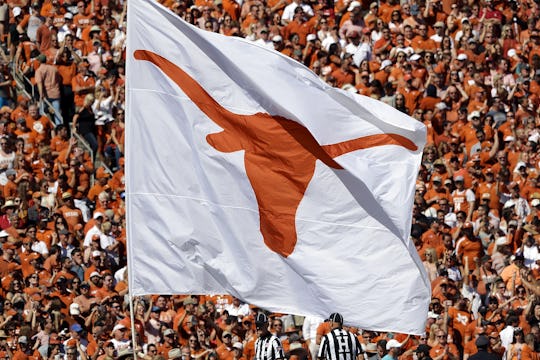 Ronald Martinez/Getty Images Sport/Getty Images
Campus Rape Scourge Persists, Study Confirms
The University of Texas has released the results of a behemoth survey on sexual assault officials there are calling "unprecedented." Including the insights and experiences of 28,000 students across 13 of the system's 14 institutions, the report revealed that, across the board at the system's eight academic institutions, 10 percent of university women across the 13 campuses say they were raped since enrolling. And, although they're disturbing, the results are unsettlingly consistent with campus rape and sexual assault rates across the country, illustrating that the problem transcends just one university system and is anything but isolated.
The Cultivating Learning and Safe Environments report, conducted by the University of Texas Austin's Institute on Domestic Violence & Sexual Assault, requested fine detail from undergraduates about their experiences with stalking, harassment, and sexual violence. And the results are striking: Fifteen percent of female undergraduates at the University of Texas Austin reported having been raped. Among men at the academic institutions, 4 percent had reportedly been the victims of a rape.
These results would also be staggering, if they weren't so familiar. According to the Rape Abuse & Incest National Network (RAINN), 11.2 percent of undergraduate and graduate students nationally are survivors of rape or sexual assault.
The University of Texas did not collect this data simply to have it on record, though. The contents of the 95-page report will fuel the fight against sexual assault there.
"We're not going to run from this. We're not going to hide from this. We're going to take it head on, and we are going to address all of these issues," UT System Chancellor William McRaven said at a luncheon Friday, the day the report went public, according to The Dallas Morning News. "We want to drive to zero."
Romper reached out to the University of Texas, which is infusing $1.7 million into conducting and continuing the study over multiple years, for additional comment, and has not yet heard back.
High profile instances of sexual assaults on college campuses have highlighted the urgency of this matter. Now-former Stanford student Brock Turner made national headlines last year when he received a light jail sentence after being convicted of assaulting an unconscious woman. Not long afterwards, a man named Brandon Vandenburg, who had encouraged his Vanderbilt football teammates as they gang raped another unconscious woman in 2013, was sentenced to 17 years in prison.
Vandenburg ultimately blamed the incident on alcohol, according to The New York Daily News. Although there is never any justification for rape, the University of Texas report also found that drugs and alcohol were a major factor in sexual assaults and rapes on its campuses, too. According to The Dallas Morning News, 84 percent of perpetrators and almost 70 percent of their victims had been using these substances at the time of the encounter.
In the Vanderbilt and Stanford cases, at least, the victim eventually told someone about what had happened, and the case made it into the criminal justice system. That's a real anomaly. At the university's Austin campus, for example, only 6 percent of respondents said that they had reported their assaults to someone at the university, while RAINN data shows that only 20 percent of female victims aged 18-24 overall reported their experiences to law enforcement.
As the University of Texas's findings, paired with national data, show, there is much work to do in protecting against rape and sexual assault on college campuses. The university's willingness to face that head on is laudable, and will ideally lead to real change.