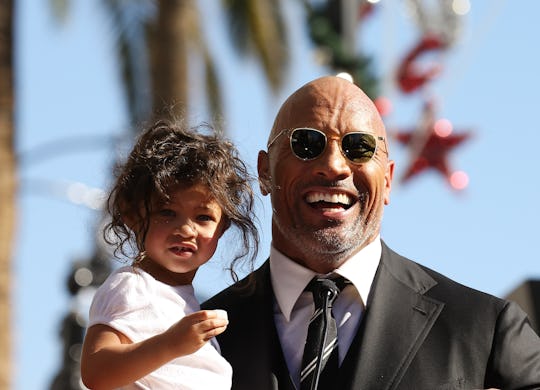 Michael Tran/FilmMagic/Getty Images
Just 10 Heartwarming Photos Of The Rock With His Kids Being A Big, Sweet Softie
There's just something about a parent who clearly loves their kid, isn't there? Any parent, of course, but perhaps especially a celebrity parent. Maybe it's the idea that some celebrities play larger than life characters, and then on social media they are putty in the hands of their children, but it gets us every time. Just like these adorable photos of Dwayne "The Rock" Johnson with his kids do. He is a big, huge man both physically and from a star perspective, but he is also oh-so-devoted to his kids and this is really something to see.
Johnson and his wife Lauren Hashian are parents to 1-year-old daughter Tiana and 3-year-old daughter Jasmine, while he also shares 17-year-old daughter Simone with ex-wife Dany Garcia. The Jumanji star loves to share photos of his family with his social media followers, of which there are more than 163 million if you can believe it. Sure, Johnson might not be one of those parents who posts constantly about his adorable daughters; he seems to choose his moments carefully and wisely. But when he does share a sweet moment of his life as a father, it is patently clear to all who see it that he is a big old softie with his girls. And honestly it is a beautiful thing to see.
Below are 10 times he did just that.