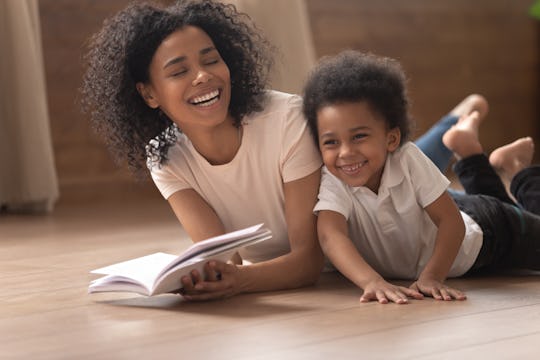 Shutterstock
Try These 10 Positive Parenting Techniques When Your Toddler Is Driving You Bananas
The crying. The meltdowns. The "Me do it's!" When you have a toddler, there are days that are so utterly exasperating that you don't even know if you'll survive until sunset. And when you're at your wit's end (and it's only 9:43 a.m.), you wonder if that snarling beast looking back at you in the mirror is really your own reflection. (Sadly, it is.) That's when you need to breathe deeply, mama, and try to practice positive parenting techniques for toddlers. It might seem like an impossibility, but really, it might be the greatest sanity saver of them all.
"Generally speaking, positive parenting techniques are ones in which your discipline comes from a place of empathy rather than punishment," Adina Mahalli, MSW, a women's health and parenting expert, tells Romper. "Even though your child needs discipline, they need to feel understood, loved, and supported at the same time, especially during their informative years as a toddler."
But let's be honest here. It can be hard to come from a place of love when your toddler draws all over your freshly painted walls, or has to be carried surfboard-style out of every store you bring him into. (Both of those happened to me yesterday, by the way.) Still, you can manage to employ some of these positive parenting techniques during the chaos that is your typical day. Who knows? You might find yourself feeling a whole lot more optimistic about the terrible twos. Maybe.