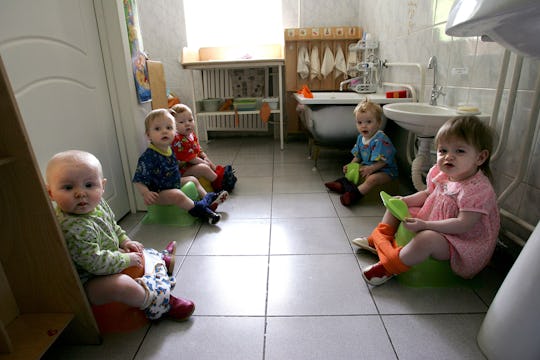 MAXIM MARMUR/AFP/Getty Images
10 Potty Training Cues Your Kid's Giving You That You Shouldn't Ignore
Is it time to potty train already? How did this happen? Wasn't it just yesterday that your baby was a squishy, helpless ball of love that needed you every hour of every day? Well, that age-old cliché of time "flying" when you're raising children, it turns out, is pretty damn true. One day you're feeding them their first bite of solid food, and the next minute your kid is showing you potty training cues you shouldn't ignore. Seriously, this kid can slow his roll whenever he's ready, because this mom certainly wouldn't mind a few more years before potty training (and everything that goes along with it) is an actual thing.
Potty training is tough. In fact, I would easily argue that it's one of the worst parts of parenting, at least early on (because I imagine those teenage years are going to be rough). It poses the potential to take both the parents and the children on an emotional roller coaster of doubt and disillusion (plus, it kind of requires that you invest far too much of your money on cleaning products). However, parents shouldn't beat themselves up if potty training isn't going well because almost every parent, at one point or another, wanted to give up and invest in a lifetime supply of diapers for their kid. I mean, it's normal to prepare your kid for college by packing some pull-ups, right?
And though there are countless methods and potty training tips out there, it can take some trial and error for you to figure out what works best for you and your child. The best way to start the process is to look for signs that your child is ready and interested in learning how to potty on their own. Here are just a few that I'm more than familiar with, but it is definitely worth mentioning that every kid is different, so if your baby or toddler isn't showing these signs, have no fear. Before you know it, whether you like it or not, potty training truly is just around the corner.