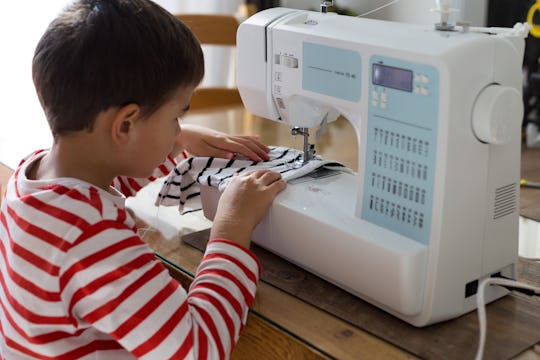 Shutterstock
Since You're Stuck At Home, Why Not Teach Your Kids These 10 Practical Skills?
By now, whether you're a stay-at-home mom, work-outside-the-home mom, or work-from-home mom, your workload has most likely quadrupled. Probably the last thing you want to do is add another thing to your already overflowing to-do list. But if you need a break from work or cranking out yet another craft, there are some practical things you can teach your kids right now that will help them for life. Seriously.
"Each of these tasks are valuable for children to learn during this pandemic shutdown," Erin Taylor, a parenting coach and author of Connection & Kindness: The Key to Changing the World Through Parenting, tells Romper. "These tasks teach children vital life skills they will need as they grow into independent adults." Because, if we're being honest here, there are so many things that we do as parents on a daily basis that our kids could probably be doing themselves. But for lack of time or energy, you've most likely been doing all of the heavy lifting — until now. These are the life skills that your kiddo has to learn at some point or another. And really, who better to pass along their expertise than you?
So take a break from Common Core (come on, you know you want to), relax, and teach your kid these real world skills instead.