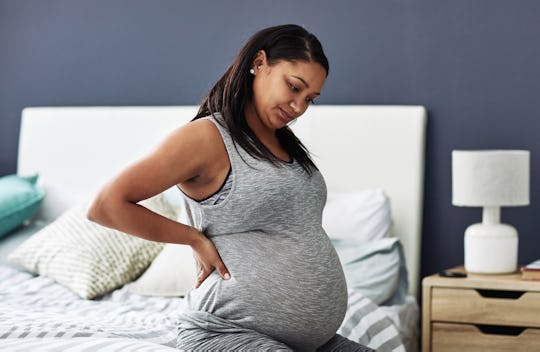 LumiNola/E+/Getty Images
10 Pregnancy Sciatica Remedies Experts Recommend For Relief
The ailments that can occur during pregnancy run the gamut from nagging nausea to intense headaches and everything in between. Receiving relief from your most pressing pregnancy side effects is crucial. If you struggle with back pain during pregnancy, you may be on the hunt for pregnancy sciatica remedies.
"As a mom-to-be gets farther along in their pregnancy, their posture changes and center of gravity has shifted, putting more pressure on the lower back. We now sit more as a whole and not move as much as we used to. Sitting can easily cause pelvic misalignments that cause sciatic pain," Dr. Brenda Fairchild, a board-certified chiropractor who specializes in pregnancy and pediatrics tells Romper.
The largest nerve in your body, the sciatic nerve runs under your uterus and into your legs, and the pressure from your growing baby can put pressure on the nerve and cause pain, according to Healthline. Some women experience a stabbing pain, while others might feel tingling or numbness.
During my first pregnancy, I experienced mild sciatica that presented as a burning sensation that ran from my lower back down through my legs. While it was most definitely uncomfortable, I can report that my particular case did clear up after giving birth and did not return during my second pregnancy.
Again, every pregnancy is different, and you should definitely discuss any potential pregnancy sciatic remedies with your doctor before trying them, but here are some ideas to get you started.