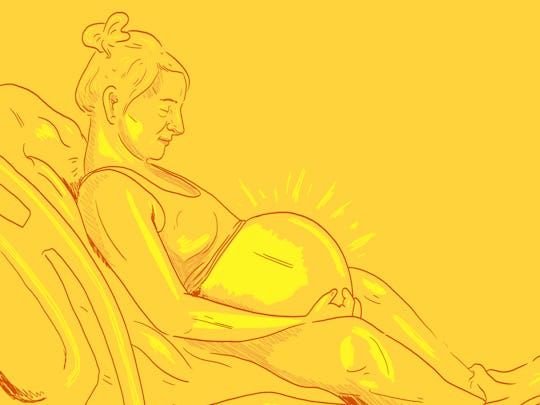 Claire Joines/Romper
10 Questions Anyone Who's Had A Home Birth Has Heard, & Honest Answers
I'm not going to lie: To the majority of the people in my life, I am "that mom." The one whose kids sleep in her bed, the one who had two unmedicated births, on purpose, and I am also one of the moms who had a home birth. Needless to say, I've had some questions thrown my way about my choices involving pregnancy, birth, and parenthood. And fair. I get it. So let's get into it.
To be honest, I never would have gone for a home birth my first time around. I was just as weirded out and nervous about the idea as anyone else, despite being introduced to it by both my midwife and my prenatal instructor. But then, at the end of my ridiculously fast (5 hours, what!?) labor, as I was getting discharged from the hospital, my midwife turned to me and said, "I know you don't want to think about this right now, but if you have another, you may want to consider a home birth. Given how fast you delivered." I smiled and nodded.
Three years later, when I was pregnant again, all of that went through my mind as we were making the decision about where to have the birth. And it just made sense to me. One of the worst parts about delivering in the hospital was getting there when my contractions were coming fast and furious. It was an awful drive, and that alone was a good reason not to go.
So I did it. And these are some of the questions I had to field.