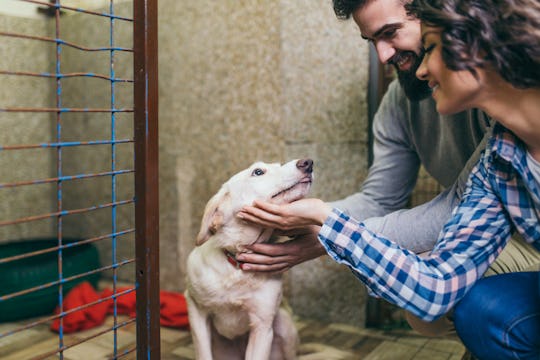 hedgehog94/Shutterstock
10 Important Questions To Ask *Before* Adopting A Dog
Nothing compares to a dog. As an owner of two rescued beagles, a former sales associate at a holistic pet supply store, and an owner of 22 pets at one time as a child (really), I can safely say with 100 percent confidence that dogs are the absolute best and we do not deserve them. You will never find a creature as loyal, protective, loving, and selfless as a dog. Sound good to you? If you don't have a dog now, I highly recommend them, as long as you read through these 10 questions to ask before adopting a dog first.
That's right. I said adopt. Not purchase from a breeder or a pet store. Please rescue a dog. Why? For one thing, there is an overpopulation of dogs right now in shelters because people who buy a lot of their dogs decide sooner rather than later they aren't cut out to raise one and then they unceremoniously dump them at the shelter. These shelters are overcrowded (and that's an understatement), which leads to more senseless euthanizing to make room for more unwanted dogs. Additionally, nearly all of the dogs sold at pet stores come from puppy mills, and puppy mills are bad news.
Most puppy mills do not have very good living conditions for the dogs, and they don't treat the dogs like living creatures — just a means to make a profit. And according to an article from The Dodo, "Even if a breeder is USDA or government inspected, they can still legally house dozens or even hundreds of breeding dogs in small wire cages for their entire lives." This is awful for multiple reasons, but one of which is that this is incredibly inhumane. Another reason is that a lot of these dogs end up getting parasites, Giardia, and Brucellosis. Not to mention the many genetic disorders dogs can get from years and generations of inbreeding. Many of these dogs have permanent psychological problems as well.
So adopt. Don't shop, y'all. However, Los Angeles-based certified dog and cat behaviorist and trainer Russell Hartstein tells Romper that it's important to keep in mind before going into a shelter that they're like war zones. "The pets that reside there have extreme elevated stress and cortisol levels and are homeless. They are under chronic stress and do not exhibit the same behaviors (positive or negative) and overall health until several weeks/months after being in your home. So what you see in the shelter and temperament tests are not accurate, nor should be relied upon."
But it's still important to ask these questions (of yourself and the shelter) that Hartstein suggests.