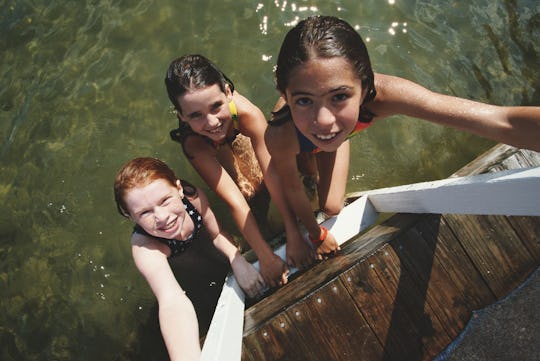 Yellow Dog Productions, Getty Images
10 Questions To Ask Summer Camps & Classes Before Sending Your Kids
As the COVID-19 pandemic rages on for the fifth straight month, parents are faced with the ultimate dilemma: keep kids home or send them to summer camp. Regardless of which decision you make, there are certainly questions you should ask before you send kids to summer activities, experts say.
"All facilities should follow the Centers for Disease Control and Prevention (CDC) guidance for providing a safe environment," Dr. Scott Krugman, vice chair of pediatrics at the Herman & Walter Samuelson Children's Hospital at Sinai Hospital of Baltimore, tells Romper. "This includes screening participants, physical distancing as much as possible, and definitely mask-wearing while inside. Facilities should regularly clean surfaces and provide access to hand-washing stations or hand sanitizer. They must also have the ability to safely serve food without cross-contamination of utensils."
Whether your kid heads to sleep-away camp, attends day camp at the local rec center, or takes summer swim lessons at the city pool, knowing how these precautions will be handled before you send your child off to an activity this summer is paramount when it comes to keeping them safe and healthy.
Summer activities for kids will look quite different this year, but that doesn't mean all of the fun has to go out the window. Kids can still enjoy summer activities with a few extra safety precautions in place and you can savor a few kid-free hours (or even entire days) once you know exactly what to expect.