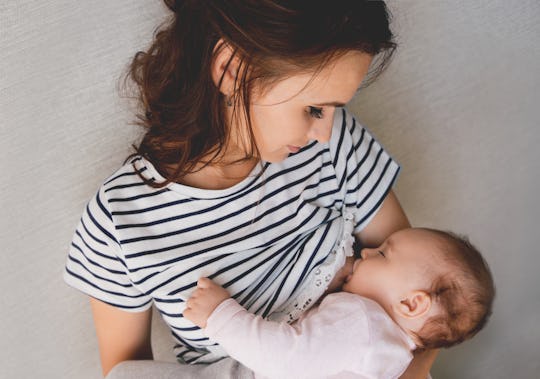 Romanova Anna/Fotolia
10 Real Breastfeeding Questions About Solids, Milk Fat, & More, Answered By An Expert
Breastfeeding can be a hard, isolating, and emotional journey, which is why it's so important to have a community of supporters. Romper has launched a new Facebook breastfeeding community, Breastfeeding TBH, in an effort to help make feeding another human being with your own body a little easier. Every day, readers ask questions because, let's face it, breastfeeding is complicated. Each week, Romper will be speaking with a lactation consultant to answer as many of these questions as possible.
If you've ever stared at a bottle of your breast milk in the fridge, trying to figure out if you're doing it right or if all breast milk is supposed to look like a tub of cottage cheese gone bad, I feel you. There are few things worse than worrying about every little thing, but hey. Parenthood, am I right? And breastfeeding. It's amazing that your breasts can nourish a baby, but it's also kind off-putting when you have literally no idea how any of it works.
You're not alone. I took your questions to International Board Certified Lactation Consultant Kristin Gourley to get answers so you can stay off Google. Gourley works with Lactation Link which offers in-home consultations in the greater Utah Valley area, but she also teaches online, on-demand, comprehensive video classes. Their expertise covers everything from learning how to breastfeed to pumping efficiently so you can go back to work, so head to Lactation Link's Facebook or Instagram to join the community.