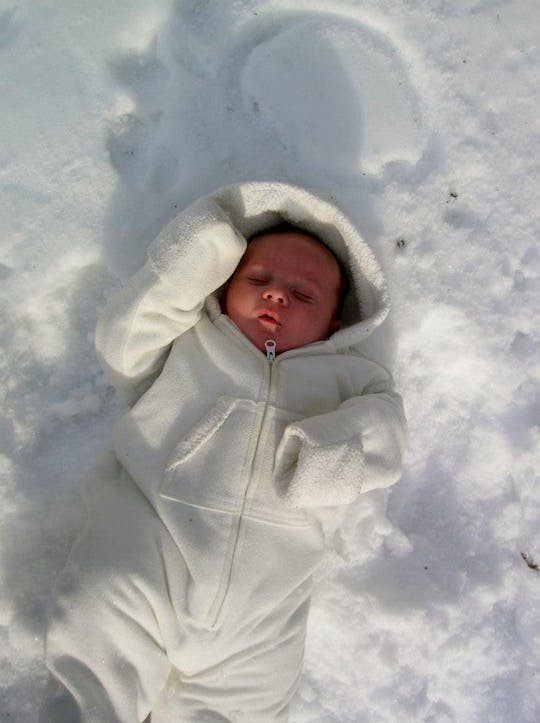 Courtesy of Steph Montgomery
10 Reasons Having A Baby In The Winter Is The Worst
When I was pregnant I just knew I would be a badass, put-together new mom who ran half marathons, was never late, and undoubtably capable of conquering the world with a baby on her hip. As you can imagine, I was wrong. I learned so much about myself in those first few months of motherhood, including how difficult it is to care for a newborn. But that first-time mom postpartum period was nothing compared to the months after I had my second baby. You guys, having a baby in the winter is the worst. By Far. Hands down. Without a doubt. The. Worst.
To be fair, I'm one of those people who thinks everything is worse when it's cold outside. I mean, I absolutely hate being cold. But things are kicked into miserable overdrive when you're trying to keep your baby warm (but not "too" warm!), dressing them and yourself for harsh weather, dealing with holiday stress, and driving in the snow. Everything seems to take more energy and pure unadulterated will to accomplish in the winter, and that definitely includes parenting. And if the weather traps you in the house you feel completely isolated from the outside world, and at a time when you arguably need and crave more adult interaction than ever before.
Of course, that's not to say that the winter months are total trash. When you have a baby the holidays certainly do take on a new meaning, and you absolutely have the best excuse for avoiding any holiday parties or family get togethers. In other words, it's not a total loss. But for me the postpartum months felt even more bleak and overwhelming when I was experiencing them during the winter, which is why I, personally, think having a baby in the winter is the damn worst.