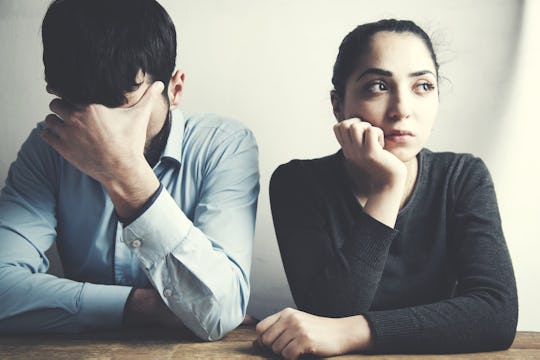 Tiko/Fotolia
10 Ridiculous Fights I Had With My Partner Because Of Postpartum Hormones
My partner and I didn't have big, major, blow-out fights after the births of our two children. At least, we didn't have angry screaming matches of anything that would be considered dangerous or toxic. But we did have "fights" as in disagreements, and I say fights because there isn't a really good word that exists for the feelings and natural tensions that arise in the postpartum period. So, while it's not a perfect term, please allow me to share the most ridiculous fights I had with my partner because of postpartum hormones.
Postpartum hormones are an easy target, largely because you can blame them for pretty much everything whether or not they're the actual culprit. They're a convenient scapegoat and yet, at the same time, they're probably involved in whatever crappy thing is going on inside your head because they're powerful little jerks. I don't know if a lot of these foul, postpartum moods were hormone-induced, exhaustion induced, or brought on by my inability "to even," but I'm just going to go ahead and blame the hormones.
Everything, and everyone, is at the very least just a little bit on edge the first few months postpartum. Even with great communication, compassion, and understanding, it's very easy to get very salty with your partner, and visa versa, when you're trying adjust to life as a new parent because WHAT EVEN IS LIFE RIGHT NOW?! And those bouts of saltiness and irrational grumpiness can, frankly, get downright ridiculous.
So with that in mind, here are some such absurd postpartum moments I'll own up to, because I know I'm not alone in this (and neither, mama, are you):