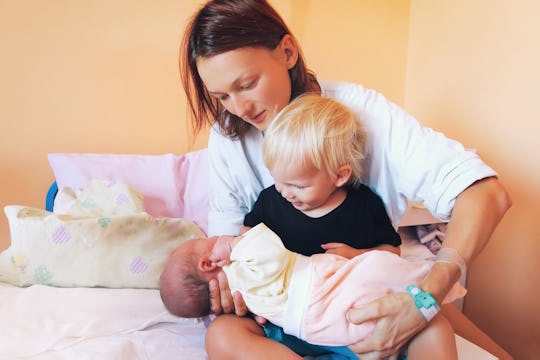 nataliaderiabina/Updated
11 Things No One Tells You About Having A Second Baby, So I Will
It seems like from the moment you find out you're pregnant with your first baby, people start asking you about your second. It's almost expected that you give your baby a sibling, regardless. Personally, that was always part of my plan. I wanted more than one child, and figured I knew what I was getting myself into. Then I got pregnant with my second baby. Why did I think having a second child would be easier than having just one? OMG I was so unprepared. There are so many things no one tells you about having a second baby, and I found myself on a crash course toward learning all of them.
Turns out, no matter how much you think you know about parenting, it's not enough. Even having one child won't save you from the surprises another child will undoubtedly bring you. First of all, every pregnancy, birth, and baby is different, so history doesn't necessarily repeat itself. Then, there's the fact that parenting two kids is a hell of a lot harder than parenting just one. You only have two hands, one lap, so many hours in the day, and so much energy to expel. Take it from me: adding a second child to your family is a much harder transition than learning to incorporate one mini-human into your life. As is recovering from childbirth, since "caring for a toddler" and "resting" do not, I repeat do not, go together.
As hard as it was, though, I was a more relaxed parent the second time around. I cut myself some serious slack and was able to let some things go; the same things that seemed extraordinarily important when I was caring for my first baby. So if you are considering trying to conceive again, or you're happily expecting baby number two, read on for some surprises you're sure to face. Trust me: it's better you know now, rather than later.