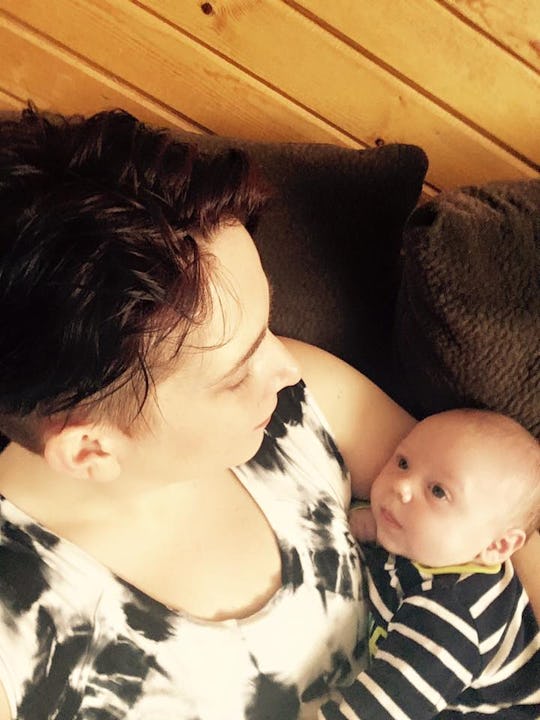 Courtesy of Steph Montgomery
10 Signs You're Kicking Maternity Leave Straight In The Ass
I felt a ton of pressure to do everything "right" as a new mom, including maternity leave. I was going to lose the baby weight right away, figure out breastfeeding immediately, and develop the perfect routine for when I went back to work. Then I realized that when it comes to postpartum life things rarely go as planned. I also realized, thankfully, that when you think all is lost and your plan is a joke, there are a few signs you're kicking maternity leave straight in the ass that you can look for and that will give you the confidence you need (and deserve). Things that have nothing to do with how much weight you've lost or whether or not you have figured everything out right away. Honestly, I've been a mom for eight years and I still don't know what I'm doing half of the time.
For me, maternity leave is pretty bittersweet. On one hand, I was able to spend my days snuggling my baby and binge-watching Netflix, but on the other hand I was exhausted, hormonal, sore, sleep-deprived, and still trying to recover from childbirth while simultaneously learning to be a tiny human's mother. When I had older kids, I had to help them navigate their lives as new siblings, and don't even get me started on how my relationship with my partner changed.
Recovering from childbirth is no joke, and if you are fortunate enough to get maternity leave, you sometimes wonder if you are doing it the "right" way. I mean there's the celebrity mom who lost her baby weight moments after childbirth, your friend posting pictures of their seemingly perfect 6-week-old baby, who's already sleeping through the night and speaking French fluently, and an inbox full of emails from your boss, requiring your immediate attention. Not to mention seemingly Herculean tasks like ordering a copy of your baby's birth certificate and putting on pants.
I think everyone needs to stop expecting new moms to do anything other than recover during maternity leave. Seriously, if you manage to get a tenth of the things done you had planned for maternity leave, consider yourself a rock star. Slow and steady is the only way to make it as a new mom, so if you push pause a few times a day and look around, you might just see the following signs: all proof that you totally kick ass: