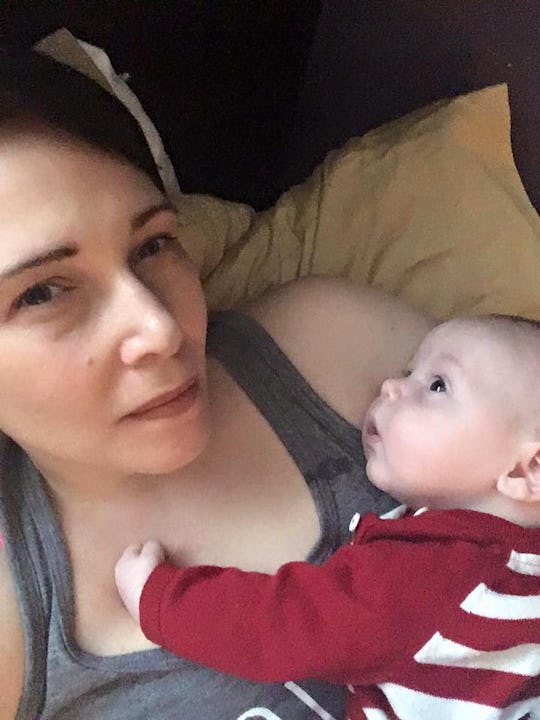 Courtesy of Steph Montgomery
12 Things No One Should Say About Post-Birth Recovery 
The first time I got pregnant, I thought I knew how everything would go. I read books and articles, joined mommy groups, and took classes. I had a very specific birth plan, which eventually went out the window. From the moment I left the hospital it seems like few things have gone as planned, actually. A lot of my expectations were due to things people told me, which was totally unfair because there's no universal experience of pregnancy, childbirth, recovery, or parenthood So, honestly, there are things people need to stop saying about recovering from childbirth.
Like, saying how "easy" it is. Maybe it was because I hung with a pretty crunchy crowd, but my friends constantly romanticized childbirth and the newborn days as something natural, beautiful, and magical. While this might seem like a nice thing to say, and I even thought so in the moment, when I actually had my daughter and was in pain and overwhelmed with fear and things weren't magical at all, I started to think that there was something wrong with me. Between breastfeeding challenges, physical recovery, postpartum depression, having to go back to work way too soon, and body image issues, recovery was anything but easy.
Plus, my childbirth recovery was different with each subsequent pregnancy. After my daughter was born, I did a lot of crying and binge watching Buffy the Vampire Slayer and Top Chef. After my son was born, I started and completed P90X while on maternity leave. This time, at eight weeks postpartum, I am not ready to work out yet, and that's OK.
I wish people would stop creating unfair and unrealistic expectations for new moms. It seriously creates this cycle of feeling weird, bad, and even like a failure when things don't go as planned. Also, it perpetuates a culture of competition around recovery, which is so messed up. Parenthood is a long journey so you're gonna need your strength, and that means taking the time you need to recover in a way that's right for you and your body.