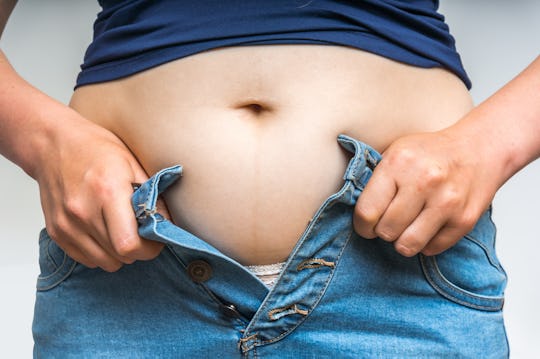 Fotolia
8 Things I Wish I'd Known Before I Tried On My Pre-Baby Jeans 
I've always kind of taken my body for granted. All my life, I've had the metabolism of a gazelle (thank you, Asian genes). So when I got pregnant at 33, I knew I was in for a few curveballs. I never imagined that those surprises would extend well beyond pregnancy, and I got a seriously rude awakening when I tried to pull on my beloved size nothing light wash jeggings. Oh, the things I wish I'd known before I tried on my pre-baby jeans for the first time.
Honestly, I was excited when I had to start using a bellyband over my skinny jeans. It meant I was really, truly pregnant, and that's something I'd been wanting to be for almost a decade. Before I knew it I had traded my skinny jeans in for maternity jeans (ah full panel, how do I love thee?). I figured I'd put them in a box and get them back out when I was postpartum. Yeah, not so fast.
On the advice of my midwife, I'd gained a full 40 pounds during my pregnancy (and only seven of that was baby). Even though giving birth is the fastest 12 pounds you'll ever lose and breastfeeding can help with the rest, you may need to come to terms with the fact that your body is different post-baby than it was when you were pre-baby. That's never more evident than when you try on your pre-pregnancy jeans. So, with that in mind, here's hoping this helps mitigate the shock you might experience the first time you try and slide back into those bad boys.