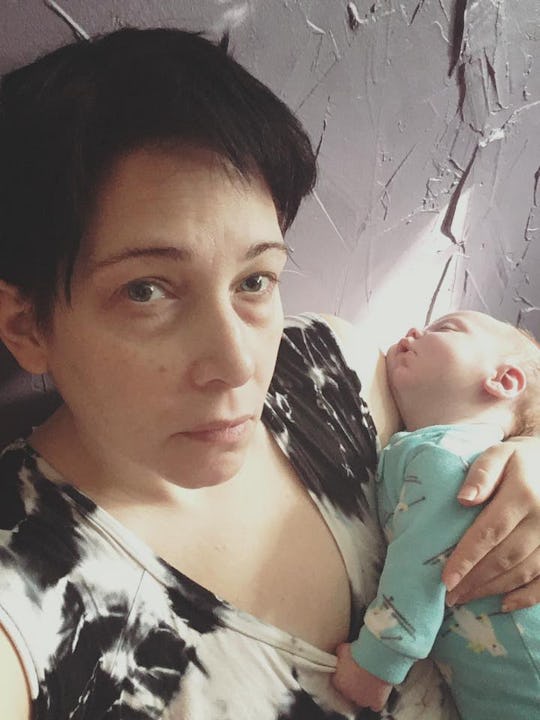 Courtesy of Steph Montgomery
10 Postpartum Moments That'll Make You Say "WTF Did I Just Do?"
Postpartum life was, for me, bittersweet. It was filled with baby snuggles, sure, but also worry and self-doubt. I remember thinking, "What have I gotten myself into?" and "I can't do this" and "Will I ever sleep again?" more times than I care to admit. I also experienced some messed up situations that made me want to laugh, cry, or both. In the end I realized new-mom life is filled with postpartum moments that'll make you say "WTF did I just do?" over and over and over again. I also realized that asking yourself that question (either internally our out loud for anyone to hear) absolutely doesn't make you a bad mom.
Between pregnancy hormones, postpartum recovery, and intense sleep deprivation, I wasn't really my "normal" self after I had a baby. So I made a few mistakes. OK, maybe more than a few. But being a new mom is nothing short of difficult and sleep deprivation is no joke, you guys. It makes you do things like fall asleep in a variety of humorous places and states, answer the door topless, and forget to put a diaper on your baby. The again, maybe that's just me? Oh, I also forgot to take my essential medications, wear a pad, and even eat. Yes, I forgot to eat. How could I let that happen? I've gotten surprisingly tipsy from one glass of wine, and don't even ask about the time I decided it was a good idea to try on pre-pregnancy jeans one week postpartum. Spoiler alert: it was a terrible idea.
If you've been a new mom, chances are you can commiserate with the weird, embarrassing, and stupid things I've done postpartum. And if you haven't had your baby yet, well, this might give you some ideas about what not to do (or at least make you feel better when you inevitably do them anyway). Because, seriously, WTF?