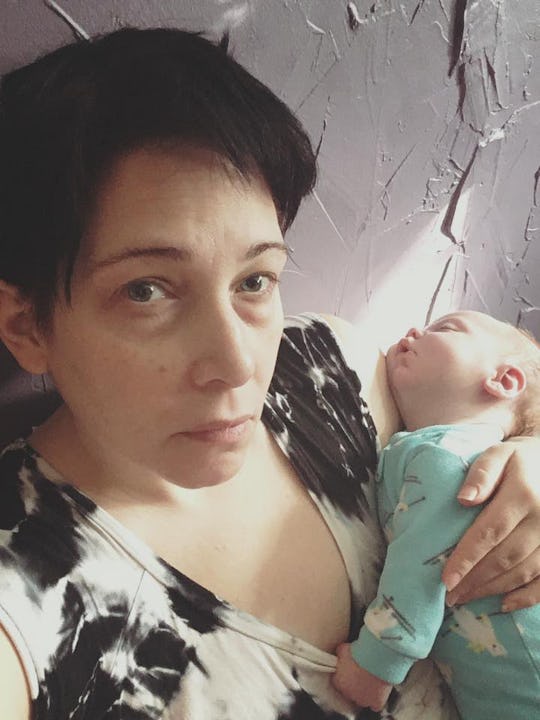 Courtesy of Steph Montgomery
10 Post-Baby Moments When You Think You'll Sleep — But No
Every new parent has moments when they think they are actually going to be OK. The baby is asleep, and I mean finally asleep, so you think you might be able to catch some sleep yourself. I'm sorry to be the bearer of bad news, read reader, but this is one of those postpartum moments when you think you're going to get sleep, but no. Psyche. False. No way. You're existing in a web of lies.
I think I remember what sleep is, but honestly I am not sure. I'm pretty positive the last time I got a full eight hours of sleep was in 2008. Seriously. I can sort of remember what it was like to not fall asleep at my desk or wake up in the middle of the night, but the last nine years have been kind of a blur. Between pregnancy insomnia, postpartum sleep deprivation, co-sleeping with a toddler, and transitioning a toddler to a "big kid bed," the first two years of parenthood trained me to exist on caffeine, adrenaline, and snuggles. Then, just when I got my older child to sleep through the night consistently (after establishing a ridiculous routine), it started all over again with baby number two.
When I became a single mom, I thought I was done having babies. I had horrible insomnia, and even when I could sleep I often stayed stayed up late worrying about and planning for the next day. Then I met my husband, and I was finally able to sleep again. Well, sort of. We had the added challenges of blending our families together, realizing that bedtime with four kids can sometimes last four times as long as a bedtime with two and that even a king-size bed is not big enough for a family of six during a thunderstorm. When we decided to have another baby, I am pretty sure I had forgotten just how exhausting and impossible the first few months with a newborn can be. I mean, it couldn't have been that bad, could it? (Yes, the answer is yes, it was that bad.)
So, now, I find myself once again desperate for sleep. The baby is asleep right now, actually, and I'm already asking myself the same silly questions I already know the answers to. Should I try to take a nap? Will I be able to sleep when the baby sleeps? Ha.