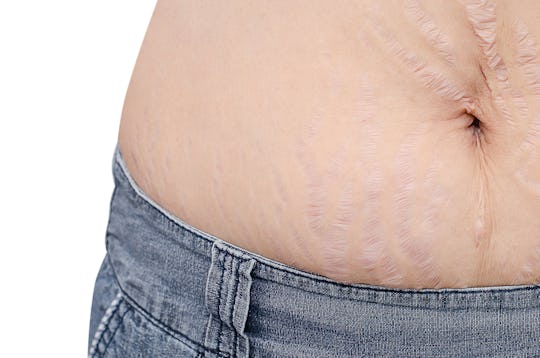 Fotolia
11 Things My Postpartum Stomach Looked Like, Because Loving Your Body Should Be Fun
It took me a long time to love my postpartum body, and to realize that growing humans is about the most badass thing imaginable and that my body is amazing, even if it will never look the same. Of course, our culture doesn't make it easy when we are bombarded by unrealistic images and messages in the media. Hell, in mom's groups you can be bombarded by advertisers promising you "toned abs" and "quick fixes" for the low, low price of $99.99. As a culture, we rarely talk about what your postpartum stomach really looks like, which makes that initial post-baby meeting with the mirror all the more shocking.
Instead of realistic expectations and the constant encouragement to love a body that did something truly incredible, there are two main messages moms hear about their postpartum bodies:
1. Do everything you can to "get your body back," even when that might be unrealistic or impossible or unhealthy. After all, how you look is the most important thing about being a mother.
2. Love your stripes and pouch. You earned them, even when that message invalidates real emotions you might have after a lifetime of being told what women should look like.
These messages hurt women when they are vulnerable and need support, and set unrealistic expectations that most women can't live up to. As moms, we are already expected to do it all. Now, we are expected to have six pack abs in the process or, if we can't, we should just love ourselves and forfeit the right to have any negative (read: normal) feelings. That's the patriarchy talking, and I advise you to ignore him. He's a lying jerk.
Instead of feeling ashamed, beating yourself up or killing yourself in the gym to achieve the impossible, I recommend radical self-acceptance. For me, that involves laughter and having some fun while loving my least favorite body part. It also means getting real and talking about what your postpartum pouch will really look like. No filters, cropping, or bullsh*t messages about "no excuses* or working out, involved. Just love (and some laughs, because motherhood should, if nothing else, be enjoyable.)