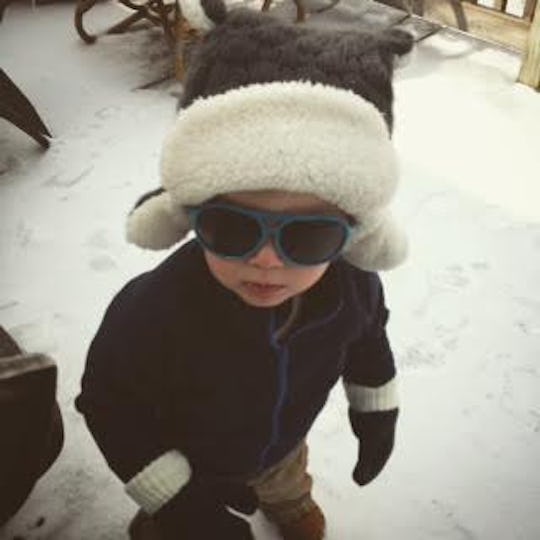 Courtesy of Hannah Westmoreland Murphy
10 Signs You Definitely Have A Fearless Kid On Your Hands (So Good Luck)
Parenthood is scary, at some point (read: many points) for absolutely everyone who decided to enter into it. If a parent tells you that they're never afraid and their kid doesn't cause them constant anxiety, they're either lying or they don't have a fearless kid. Sometimes it can be difficult to differentiate between kids being kids and your kid showing some fearless tendencies, but they're are signs you have a fearless kid on your hands which, coincidentally, double as signs you really need to invest in some wine.
My own fear started before I even got home from the hospital with my firstborn. He was perfectly healthy and basically everything about my pregnancy, labor, and delivery had been pretty routine, so I had no legitimate reason to be afraid, except for the fact that I didn't feel like I was nearly ready enough to keep a tiny human alive and thriving on my own, despite my many months of vigilant preparation. I was terrified that first day I brought my baby home, and have had plenty of other fleeting moments of fear since, as my kid seems to become more and more fearless by the second.
It's not that I don't encourage fearlessness in my children, because I do. I want them to be courageous and to explore and to be blissfully unaware of the dangers of the world for as long as possible, because they're children and freedom is wonderful and they shouldn't worry the way a parent (i.e. me) does. However, me fostering fearlessness also means I spend far to much times Googling signs of a heart attack, because I'm pretty positive both of my kids are hell-bent on giving me one. What can I say? You win some, you lose some.
If you have a fearless kid yourself, you're probably well aware that your parental journey is going to have its (many, many) challenges, but just in case you need a subtle reminder (or you're wondering what's ahead), here are 10 signs you've got a fearless kid, too, because #solidarity.