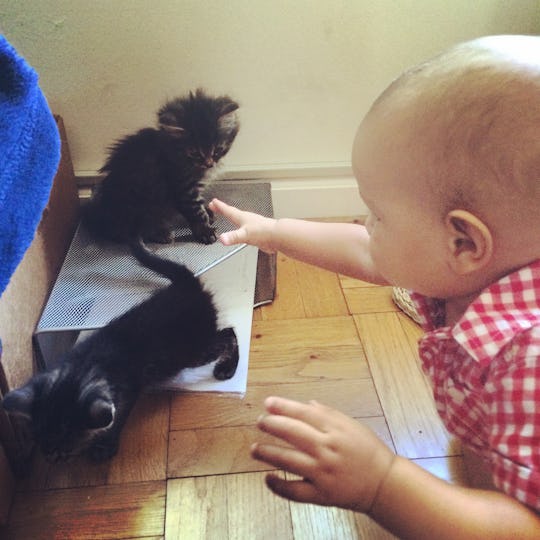 Courtesy of Sabrina Joy Stevens
10 Signs Your Baby Is Going To Be A Cat Person
For several months after my then-infant son first learned the word "cat," it was the first word he used every morning after waking up. Over and over, he would say, "Cat? Cat? Cat?!" until we found our kitty so he could play with her. It was among the first of many signs my baby is going to be a cat person, which doesn't come as much of a surprise. I'm a cat person, the best cat ever is part of our family, and she's been his best friend pretty much since birth.
Like me, my son certainly loves dogs too. But cats — and ours in particular — are definitely his main thing, pet-wise. There are lots of stereotypes out there about cat people, which may or may not have some grain of truth to them. There's also some research out there which finds that cat people tend to be more intellectually curious, politically progressive, and open-minded, which is all fine by me. By all accounts, my kid is already all of those things, too. He even raises a little solidarity fist if you tell him, "Power to the People!" (Though come to think of it, making a fist does make his hand look more like a paw…)
If your little one has started nuzzling you with their head, or meowing in conversation, you might momentarily be a little concerned that they're identifying a little too closely with the family cat. I wouldn't worry if I were you. Just the other day, I watched my little cat person cuddle up with his favorite board book, a blanket over his lap, and our purring kitty next to him. All he needed was a cup of tea to complete the look. There are definitely worse things he could be doing, or looking forward to in the future. If any of the following are true about your baby, you might want to keep your phone handy so you don't miss that photo op like I did. I'm still kicking myself.