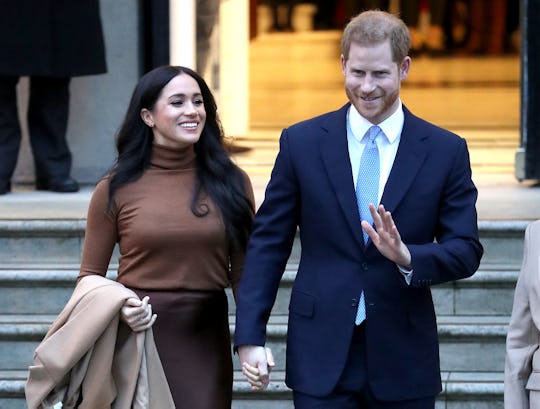 Chris Jackson/Chris Jackson Collection/Getty Images
The Simple Things Meghan Markle Could Do If She's Not A "Senior Royal"
Meghan Markle and Prince Harry announced their plans to step away from their royal roles to a certain extent earlier this week. It was, of course, a massive bombshell. But as they sort out their future plans to be "financially independent" of the Queen and divide their time between their home in London and North America, I can't help but feel excited for the Duchess of Sussex. Especially because of all the simple things Markle can do if she's not a "senior royal."
After all, Markle grew up in a very different world from the royal family. She had 30+ years as an independent woman before she married Prince Harry in May 2018. And as an American, she has said herself she didn't really know what to expect from becoming a member of the British royal family. The former Suits actress explained to Tom Bradby in an interview for the documentary, Harry & Meghan: An African Journey, she had "no idea" about the level of scrutiny she would deal with as a royal.
The monarchy under Queen Elizabeth's rule has a long list of rules for senior members of the royal family, some of which are stated and some simply implied. Now that Markle and Prince Harry officially announced their plans to step away from their senior royal duties, they will no longer count on the Sovereign Grant for their expenses. Meaning they will not be bound by the same strict rules that govern the other senior royal family members. And this should be good news for Markle, she might be able to reclaim some of the life she left behind.