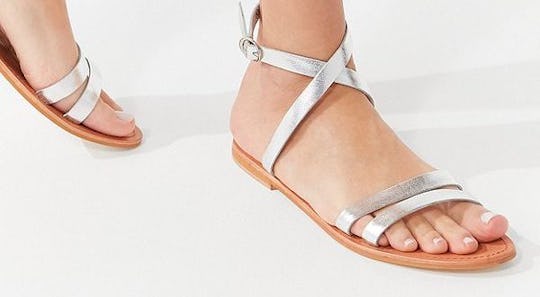 Urban Outfitters
10 Strappy Sandals Under $30 That Are Too Cute *Not* To Buy
Sandal season is finally here at last, which is great news for anyone who can't stand having to wear socks and/or loves having an excuse to get pedicures. There's just something about trading socks and supportive soles for open toes and flirty straps that makes you feel so carefree (maybe because it's the closest we can get to being barefoot in respectable society?). Whatever the reason, you really can't have too many sandals, especially because most styles aren't exactly designed for long-term wear. Luckily, there are so many strappy sandals under $30 this summer that you're going to want a pair for every day of the week.
From shiny metallics to tropical brights to earthy neutrals that are perfect for everyday, it seems you somehow end up owning more sandals in life than any other kind of footwear... in part because, well, it's way easier to find a pair of sandals for less than 30 bucks than it is to find a pair of boots on sale or even reasonable running shoes. Sandals are almost more like an accessory than legit shoes: Sort of in the same way as jewelry, they can complement an outfit or add a style statement all their own. (And just think of how many pairs of earrings you have in your possession!)
Looking to dress up a casual outfit? In need of a pair of comfy sandals you can wear anywhere and everywhere? Whatever your sandal needs, there's something on this list that's guaranteed to work for you... and your budget.