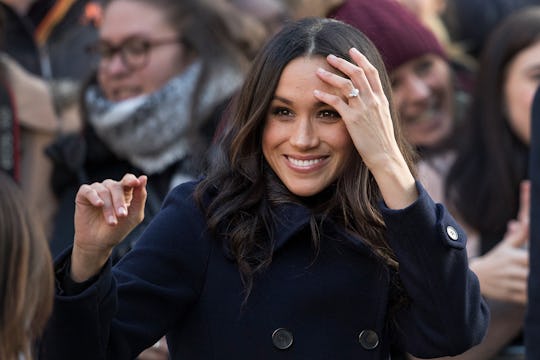 Christopher Furlong/Getty Images Entertainment/Getty Images
The Sneakers Meghan Markle Is Obsessed With Can Be All Yours For $75
Princesses don't always wear glass slippers, and modern day fairy tale heroine Meghan Markle is proof. In fact, even though the Duchess of Sussex has been wearing heels more often than not lately (at least in front of the cameras), the former Suits actress has a history of rocking comfy footwear. Before marrying Prince Harry, she was even photographed multiple times in the same pair of surprisingly affordable kicks; in fact, you might even have them in your own closet. The sneakers Meghan Markle is obsessed with are Reebok Classic Leather in white, a versatile choice that looks good with practically everything... except a wedding gown, of course.
As Cosmopolitan reported, Meghan has been spotted wearing her Reeboks many times (usually on her way to or from yoga, it seems). And why not? White sneakers never truly go out of style, but they're definitely having a major moment. And while it can be tricky to find a pair that doesn't look too clunky or too much like something your grandpa would wear, the Reebok Classic Leather is sleek and flexible – and with a price tag of $75, probably one of the least expensive items in Meghan's royal wardrobe.
Seriously, as far as sneakers go, this one is pretty much iconic (not to mention legitimately supportive of your arches and all that other stuff that sneakers are supposed to do besides look cool). Plus, how great is it that you can actually own the same sneakers as a princess IRL for under $100?
Whether or not Meghan will be allowed to wear her beloved trainers very often now that she's officially related to the Queen is up for debate – if the royal dress code is any indication, it's going to be all knee length skirts, demure trousers, pantyhose and neutral nails from here on out. But that doesn't mean you can't still channel her single gal style. And honestly, considering Meghan started doing yoga when she was 7 years old, chances are there'll be at least a couple of paparazzi snaps in the coming months of Meghan dashing outside the Palace walls for a quick class in her trusty Reeboks, even if she's wearing dark glasses and a hat in the hopes of going undetected. (What the Queen doesn't know can't hurt her, right?)
If, however, you're into the white sneaker look but those Reeboks just remind you too much of the shoes you wore to gym class in 7th grade, you don't have to literally follow in Meghan's footsteps. There are lots of similar options out there that are equally versatile and affordable (some are even more affordable). Whether you're looking for something slightly less thick-soled or you need a tiny pop of color, there's definitely a shoe that fits the bill. And while you may not be married to a prince, at least you'll get to wear your white sneakers with jeans. (Good luck with that, Megan.)