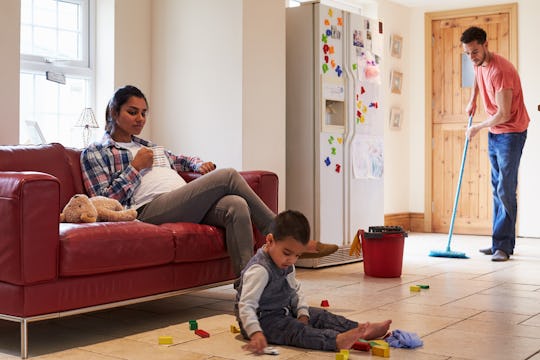 10 Things Every Grown-Ass Man Does When His Partner Needs A Parenting Break
Although I was absolutely exhausted and very sore and definitely delirious, the moment I held my son I couldn't have imagined wanting a break from him. In fact, when nurses needed to check him the first and second night he was in the hospital, I insisted on going with them. I didn't want him out of my sight or no more than a few inches away from me. Now that my son is a toddler? Well, I could use some space. Thankfully, my partner does all the things every grown-ass man does when his partner needs a break from parenting, and doesn't make me feel guilty or selfish or anything other than human, for wanting some much-needed (and, I think, much-deserved) alone time to focus on every other aspect of my life that doesn't involve motherhood.
In the almost-two years that I've been a mom, I have noticed that so many mothers are afraid to ask for the one thing they so desperately need: a parenting break. Wanting time away from your kid or your family is seen as selfish or, perhaps even worse, indicitive of how much you love and care for your kid and family. Motherhood has become synonymous with martyrdom, and now mothers think they need to sacrifice absolutely everything and push themselves to the brink of insanity and teeter on that dangerous line of utter exhaustion, in order to prove they're involved in their children's lives.
Yeah, I say enough of that. I am not ashamed to admit that I need a break from parenting every now and then, and I'm not above asking my partner to help facilitate that break so that I can be away from my son without worrying if he is being cared for properly. When you're part of parenting team and you're working together to raise a tiny human, well, there are a few things every grown-ass man just instinctively knows he should be doing. When it comes to giving your partner a break, here are some of those things: