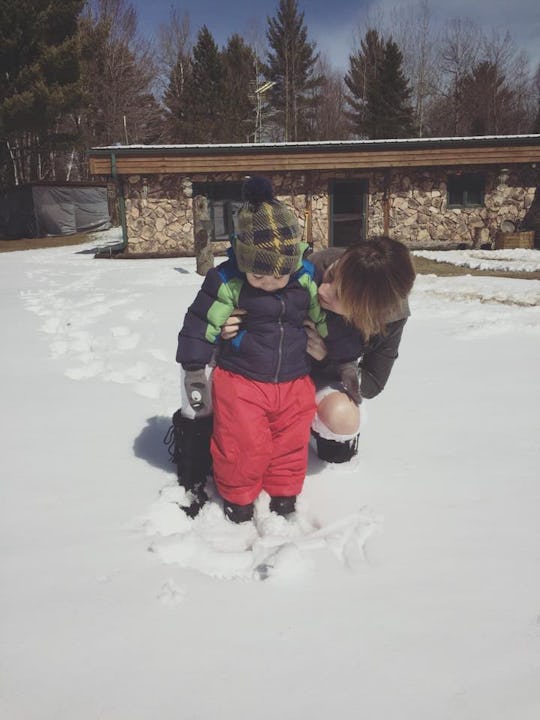 Courtesy of Danielle Campoamor
10 Things Every New Mom Needs To Know If She's Going To Survive Baby's First Winter
Winter. The bleakest, bitterest of seasons — if you have to leave your house, that is. If you're fortunate enough to have a warm place to stay, make some hot cocoa, start the fireplace and/or Netflix, and get cozy until Spring. I try to avoid going out in winter as much as possible, 'cause it's gross and massively inconvenient for moms of new people. However, if you're a new mom and you absolutely must leave the house, here are some things new moms need to know to survive winter with a new baby.
As a mom of a January baby, trust me when I say I know what I'm talking about. Surviving winter with a new baby requires your A-game in advance planning, patience, safety, and disease prevention. In addition to constantly having to make and reschedule plans due to bad weather, nasty colds and bouts of flu — and whatever new disease they're advertising on the news that season — once you actually commit to going somewhere, you have to leave so much extra time to prepare that you might as well just wait until Spring. Paradoxically, the car that used to save you time going places becomes a hassle unto itself in winter time, because coats and car seats don't mix. (Realest of real talk here: Never, ever have your baby wear a puffy coat in their car seat. Puffy layers between a baby's chest and their car seat straps put them at serious risk in case of a crash.)
Even with all that, we haven't even actually arrived at any destinations yet. Chances are, once you get wherever it is you're going, there are still going to be sick people there (who nevertheless want to put their hands and faces all over your baby's hands and face, immature immune system be damned), as well as strangers ready to judge your winter parenting ("Why is the baby only wearing one pair of socks?!") or frenemies and family members ready to judge your overall parenting. Mama bears hibernate for a reason, y'all. But if that's just not in the cards for you, here are some tips to help you make it through.