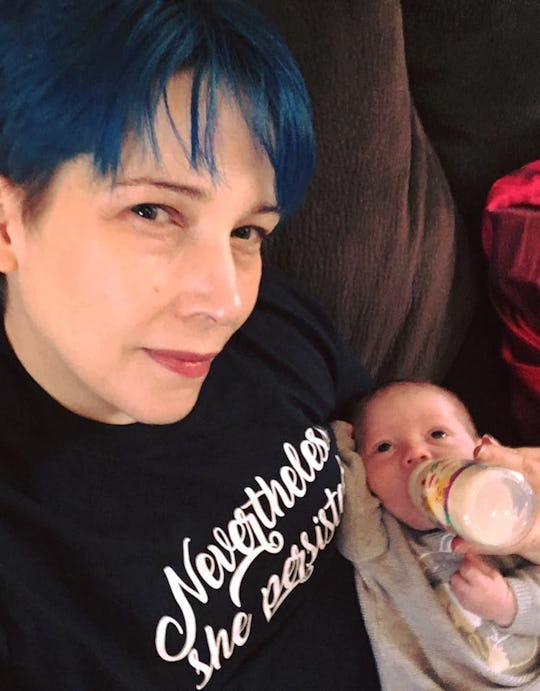 Courtesy of Steph Montgomery
10 Things I Want To Say When People Suggest I Work Out Post-Baby
Facebook regularly reminds me how my last maternity leave went. I was totally that annoying person who worked out daily and posted about it on social media. I am not saying that I shouldn't have worked out or talked about it, but I put a ton of pressure on myself to lose my baby weight, which wasn't healthy at all. This time around, I hear these sentiments everywhere, from friends, the media, and articles on the internet. I have a few things I would like to say to anyone who suggests I work out post-baby, mainly along the lines of, "Please don't tell me what I can or should want to do right now."
For me, each of my pregnancies has been different in terms of my health, complications, recovery time, and also in terms of how much weight I gained and how quickly I was able to get "back into shape" after my babies were born. For the record, by "back into shape" I mean "a shape," because honestly, my body will never be the same shape it was before pregnancy, no matter how many miles I run or push-ups I do. I didn't always feel that way, though. In fact, it's taken me eight years and three pregnancies to be OK with the fact that my body will never be what it was pre-babies.
I realized that I need to seriously cut myself some slack. Pregnancy is a big deal. I freaking grew a human in my body. That's badass by itself, no matter how much weight I gained, how quickly I am able to lose it, or even if I don't ever work out again. Pregnancy is also incredibly really hard on your body, and rarely goes as planned. I went into my last pregnancy in the best shape of my life. I had just completed an intense yoga teacher training program and had trained for and run a full marathon two weeks before I conceived. I was super badass. Then, I had pregnancy complications and "life" complications. I am still badass, but working out has been impossible.
So, please don't be offended if I don't appreciate your unsolicited comments about my postpartum body or my work out plans, because I'm recovering from freaking childbirth. In fact, I may just respond in one of the following ways: