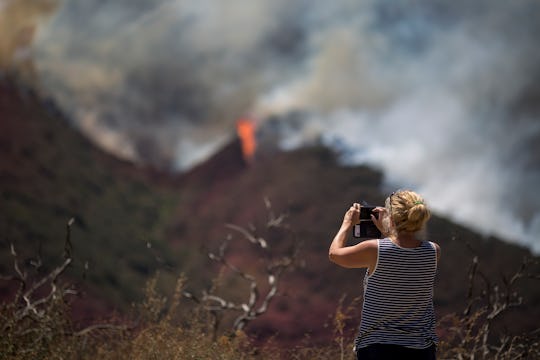 David McNew/Getty Images News/Getty Images
Here Are 10 Things All Parents Should Pack If They Get Evacuated
When you first purchased your home, you probably never imagined that one day you might have to leave it with just the clothes on your back due to an emergency evacuation. But that's probably what many homeowners in California once thought as well. So what are some things parents should pack if they get evacuated? As we watch the California wildfires continue to burn through thousands of acres, it might make you wonder if you, too, would be ready for such a sad, unsettling situation.
Whether it's due to wildfires or hurricanes, tornadoes or flooding, natural disasters occur all too often. The World Health Organization (WHO) reported that each year, natural disasters kill around 90,000 people worldwide and can affect up to 160 million more. That's why you need to know what potential disasters could occur in your area to be as prepared as possible. You might discover that your home is located in a flood zone, or that your area is prone to getting hurricanes. Once you know what could happen, then you can be ready for it if it occurs.
But that begs the question: Should each person in the home have their own evacuation bag, or should it be just one big bag for the family? "What you want to avoid is children having their own bags," Mike Gnitecki, a firefighter and paramedic for the Waskom Fire Department in Waskom, TX, tells Romper. "What might happen is that the children may try to find their bag instead of promptly evacuating the home." And as it turns out, where you choose to store your bag just might be as important as what you put in it. "It's a good idea to store the bag in the garage," says Gnitecki. That way, you can literally grab it and go.
Here's what you should put in your evacuation bag in case of an emergency: