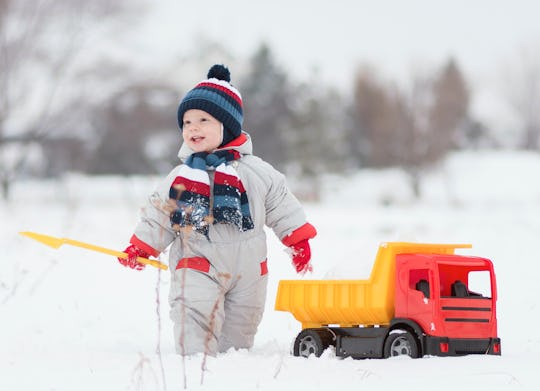 Shutterstock
10 Things To Do In The Snow With Toddlers Other Than Putting Their Gloves Back On
Is there anything more fun that taking littles out into the snow? OK, yes, there are maybe more fun things than this. But it is incredibly cute to watch 3-year-olds stumble and frolic with the flakes. And believe it or not, there are actually loads of fun activities to do. Below, I've rounded up 10 fun things to do in the snow with toddlers — things that will help keep everyone entertained, and help you to forget that you can no longer feel your nose.
Little kids get so incredibly excited by the snow, especially if they live in areas where snowfall is a rare occurrence. I remember when my son saw the snow for the very first time, he pointed at it — distressed — and told me the clouds had fallen. (Definitely one of the cutest things he's ever said...)
Yes, it's a pain to find the gloves and the hats and the scarves and the snow pants and the snow boots. And to at last get your kid all suited up, only to have them turn to you the second they are outside and say, "I need to go potty." But the look of wonder on a child's face as he gazes down at his first lop-sized snow angel? Worth it.