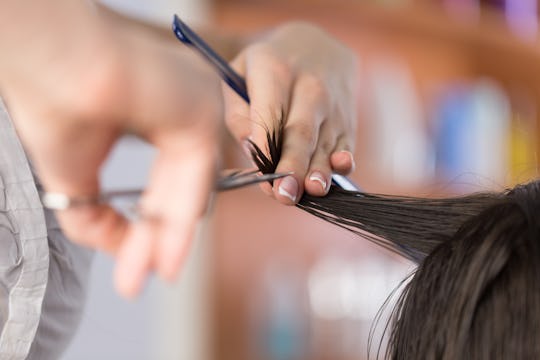 Fotolia
10 Thoughts Every New Mom Has On The Day She (Finally) Gets Her Hair Cut Again
Many of us have known people who have the glorious gift of hair styling skills. They're able to do everyone's hair before a dance in high school, or who style a killer updo for fellow bridesmaids at weddings, and their own hair always looks oh-so-glamorous constantly. I am most definitely not one of these people. Most of the time, my hair is in some sort of ponytail that probably doesn't look as chic as I think it does. I recently chopped about four inches off my hair, and spent the entire day anxious, consumed with the thoughts you only ever have when you cut your hair. I used to cut my own hair, and even attempted to cut my own bangs a few times. Yeah, completely not worth the risk (or the "reward," because ugh). So, I have decided to leave the hair-cutting to the professions. That doesn't mean, however, that all my hair-cutting anxiety is gone. Nope. Not even close.
My return to the hair salon meant that I was not only going to trust someone else to cut my hair, I was going to pay them for it. Yes, they clearly had more experience and they're a professional with extensive training, but you never really know exactly what you're going to get when you make that hair appointment. I mean, at least when I'm the one doing the cutting, I know what my hair will look like. Not good, mind you, but at least I know. There's no shock and there's no disappointment and well, even if my hair is uneven, the certainty of it all can be comforting.
Basically, making an appointment to get my hair cut was a big deal, which was easily magnified by the fact that I was also a new mom and that haircut was one of the first significant attempts at self-care I'd made in some time. Here's what was going through my head that day, and what (I'd argue) goes through everyone's head when they decide to cut their hair.