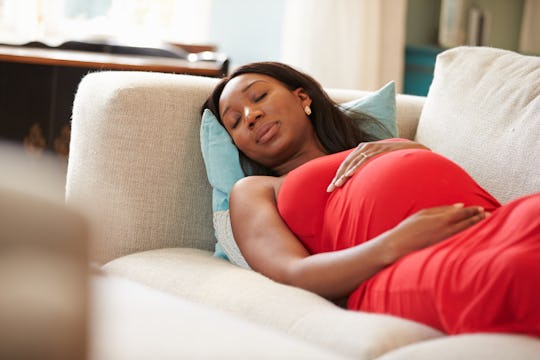 Shutterstock
10 Doula-Approved Ways To Cope With Pain During Labor, Including Cussing Out Loud
Who doesn't want a peaceful, pain-free birth? In reality, delivering a baby freakin' hurts, but there are more methods than ever for moms to fight the pain. One way that's gaining popularity is using visualization techniques to manage labor pain. Learning mental techniques to cope gives soon-to-be mamas another option for coping with the pain and potential stress of delivering a baby, and OB-GYNs agree that they're a great tool for labor.
"They're helpful because we try to offer a complete menu of pain relief options, both medical and non-medical. Giving people options allows them to pick and choose what's best for them," says William Camann, MD, director emeritus of obstetric anesthesia services at Brigham and Women's Hospital in Boston, in an interview with Romper. "Keeping an open mind and having a bunch of options available is a good thing. For some people, nothing but an epidural will provide adequate pain relief. For others, these visualization and mental imagery or focusing techniques may be effective. Or they may be effective for the earlier part of labor, and an epidural used at a later stage. It allows more flexibility."
Adriana Lozada, AdvCD(DONA), doula and host of the Birthful podcast, tells Romper in an interview that finding hypnobirthing classes in your area is the best resource for learning more about visualization during labor. "One of the practices that most focuses on visualization as a way of coping with the intensity of birth is hypnobirthing, or Hypnobabies, which uses different self-hypnosis techniques. The goal is just to calm your nervous system and distract your brain. It makes the experience more tolerable. You might be feeling the same intensity of pain, but be perceiving it as less painful. Whatever helps you do that, works," she says.
Once you find the techniques you like best, it's important to practice, practice, practice. "The more practice you can get, the better, and the easier it becomes," says Michelle Baur, MHS, HCHI, doula and certified Hypnobabies instructor, in an interview with Romper. "This practice needs to happen during pregnancy so they can easily go there during birth."