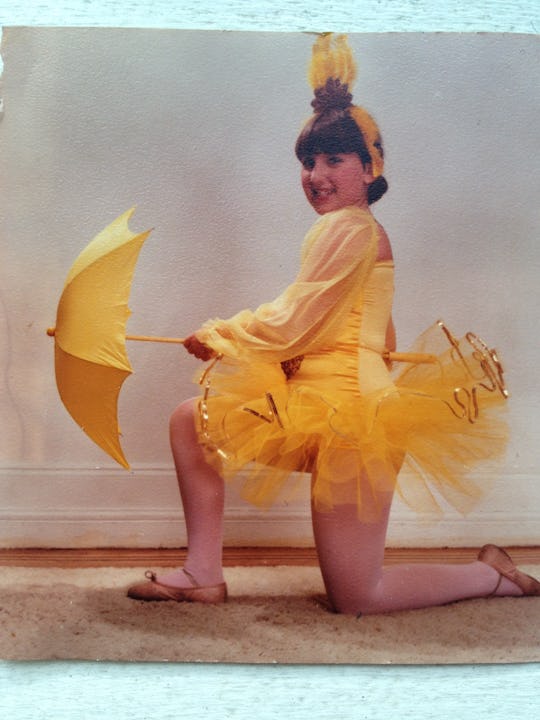 Courtesy of Liza Wyles
10 Ways Being Into Dance Growing Up Makes Your Mom Skills So On Pointe
When I was a kid, there were two times a year my mom let me stay up late: New Year's Eve, and when "The Nutcracker" was on PBS. I loved dance. I took ballet, tap, and jazz lessons for 12 years, until I went away for college. Being into dance growing up helped define who I am now, decades later. It didn't matter that I was short, chubby, and didn't have great turnout. Dance was an escape that provided comfort even during times when (like all kids and teens) I hated my body.
I was lucky that my dance instructors weren't critical about our appearances. They never spoke about body type. They only cared that we paid attention, stayed neat (Hair up! No VPL!), and put in 100%. The discipline that comes from learning dance served me into adulthood. Dancing was proof that practice was the only way to improve. As frustrating as it is to fumble in the early stages of learning skill, that feeling you get when you finally nail a pirouette is exhilarating.
Of course, I would love if my own kids were into dance, but it's too early to tell what they may be passionate about. My daughter, at age 8, has been taking dance classes since she was 5, albeit under no pressure from me (I swear). She tried it, liked it, and wants to stick with it. I watch her and she is just having the best time. That totally delights me now, but I know I will just have to deal with the fact that she may move on to something else if her interests shift.
And it's not shocking to me that my daughter took to it so easily: Dance is for everyone. Moving wordlessly to music, performing to my reflection in the mirror, is still one of my favorite things to do. Of course my kids find that hysterical. And here are a few more ways being into dance growing up has positively impacted my parenting: