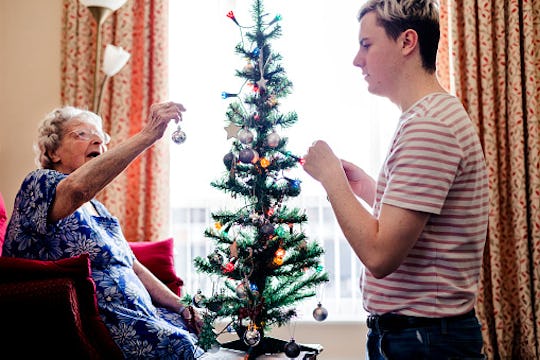 SolStock/Getty
Making Xmas Cards At Nursing Homes & 9 Other Ways To Give Back This Season
In the midst of holiday doorbuster sales, work parties, cookie swaps, and mile-long Santa wish lists, it's easy to become consumed by Christmas excess. But the season is about much more than elbowing out another mom to grab the last Hatchimal on the shelf. The holidays are about giving back and there are many places to give back this Christmas.
All kinds of nonprofit organizations are looking for volunteers this time of year and for most of them you don't need to have any special expertise — just a free afternoon and a positive attitude. Just give them a call and ask for ways to help out as well as the days and times you're available.
Or, you can craft your own DIY giving back event, like organizing a coat drive, shoveling neighbors' snow, or caroling around the city — provided you've got the musical chops (remember the key phrase here is "make a joyful noise," not "prompt your neighbors to call the cops"). When it comes to offering help, there's no need to be intimidated or concerned you don't know enough about how an organization works. There will likely be volunteer mentees there to help. And remember, it's your presence not presents that means the most this time of here.
Here are 10 places to give back this Christmas season.