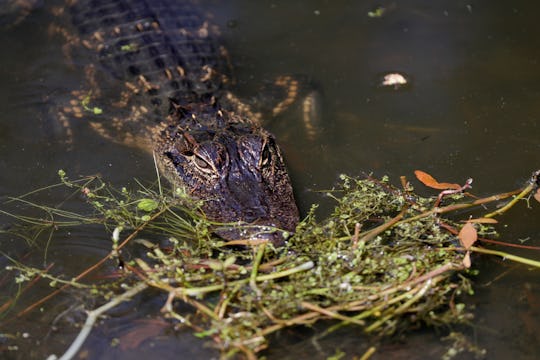 Streeter Lecka/Getty Images Sport/Getty Images
10-Year-Old Fought Off Alligator By Punching Its Nose
It's hard to imagine being able to think clearly while a large reptile is trying to eat you, but that's exactly what this 10-year-old girl who fought off an alligator did. She's pretty badass. Juliana Ossa was sitting in 2-foot-deep water in the designated swimming area of Lake Mary Jane at Moss Park in Orlando recently when an 8-foot alligator attacked her. But luckily, she remembered a lesson she learned at Gatorland, another park in Orlando.
While the reptile had her by the leg, Juliana "punched it in the nose," and then stuck her fingers in its nostrils. She told Inside Edition:
I used what they taught me at Gatorland, so I put my two fingers up its nostrils and it couldn't breath and had to breath from its mouth and then let my leg out. The gator didn't do anything because he was too busy biting my leg and too busy with his claws in the sand. He didn't have any attack moves to take out my fingers.
Remember this if you ever set foot in Florida: Sticking your fingers up an alligator's nose might save your limbs. Brave Juliana has a bite mark on her leg, but she's going to be totally fine (she doesn't even seem all that shaken up about having to touch an alligator). She was treated first by lifeguards and then taken to a nearby children's hospital.
Earlier Monday, some experts were skeptical that a young girl could "pry" the gator's mouth open. But sometimes smarts are better than brawn, and the fact that Juliana kept her cool probably saved her life. Just for good measure, Katie Purcell, a spokeswoman for the Florida Fish and Wildlife Conservation Commission, confirmed with The New York Times that, yes, Juliana was "able to pry the alligator's mouth open and remove her leg," during the Saturday attack. (Take that, haters.)
The FFWC said in a statement that the "FWC works diligently to keep Floridians and our visitors safe and informed on what to do if they spot a potentially dangerous alligator." For now, the swimming area at Moss Park is closed out of "abundance of caution," according to a park spokesperson and the gator has been trapped by the FFWC.
It's a good thing that Juliana's story has a happy ending. Last summer, 2-year-old Lane Graves was at the Seven Seas Lagoon at Walt Disney World's Grand Floridian Resort & Spa and attacked and killed by a gator in a similar incident. The gator was euthanized after the attack and the family started a foundation in their son's name.
Hopefully with more education and awareness, there will be more stories that end like Juliana's.