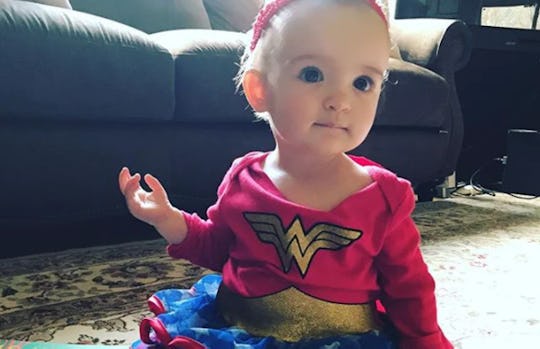 Courtesy of Marie Southard Ospina
100 Things I Want For My Daughter In This Sh*tfire Of A World
My daughter may only be 11 months old, but I already spend a lot of time worrying for her future (#momwithanxiety). I wonder whether she will grow up in a society that allows her full autonomy over her body. I wonder whether she'll experience sexual harassment once puberty hits, just as I did, or even before. I ask myself what I can do to make sure that she knows a person's worth is never determined by their waistline. I pray that she never feels guilty about enjoying a damn candy bar. That she knows how to find herself when the world is shifting under her feet. There are so many things I want for my daughter, and so many that I just don't know if she'll have.
When I learned what Luna's assigned sex would be, I was immediately inundated with mixed emotions. On the one hand, I was overjoyed. I could relate to a girl. I could teach her how to put on makeup if she showed interest, but tell her that it's OK if she doesn't. I could talk to her about love, sex, and consent. Then it hit me. There are so many pressures young women are subjected to. So many mixed messages they're fed, and expectations they're bombarded with. There's still so much danger that can follow their every step, and stigma that can coat their every action. It can all be so damn hard.
In terms of the person my daughter becomes, I ultimately hope she is a well-rounded, intelligent, caring human being. I hope she doesn't inherit her parents' anxiety, and that she is more comfortable in her skin than I was for two decades of my life. Still, there is a lot more I want for her. Things that maybe I didn't know, expect, or have access to when I was growing up. Things I want her to know, to expect, and to find out there in the world beyond her parents' arms.