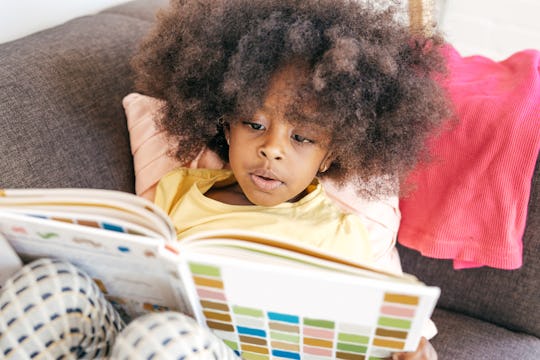 Weekend Images Inc./Getty
11 Children's Books About Grief To Help Your Child Cope & Understand
There are few topics more difficult to discuss with a child than death and grief. I mean, we struggle to grasp these things as adults, so it can feel next to impossible putting these concepts into words a little kid can understand. Which is why I feel very grateful for these authors, who found the words for me. It turns out, there are several thoughtful, comforting children's books about grief to help kids cope and understand their feelings.
We are living through such an unbelievably grim and heartbreaking period in history right now. We're just moving through a lot of darkness, and the desire to shield our children from all of the darkness can be very, very strong. But kids are so incredibly aware. They pick up on things in ways we don't even realize.
My own son started asking me very intense questions about death recently. And I'll be honest, I so, so badly wanted to lie to him. I did not want to puncture his little bubble of innocence with how hard and sad the world can truly be. But I of course know that would be the wrong thing to do. One of the hardest jobs of parenting is teaching our kids about pain and loss. But along with these rough life lessons, we get the opportunity to teach them about perseverance, about learning how to cope, and about finding a bit of comfort and grace in even the toughest of times.
We only include products that have been independently selected by Romper's editorial team. However, we may receive a portion of sales if you purchase a product through a link in this article.