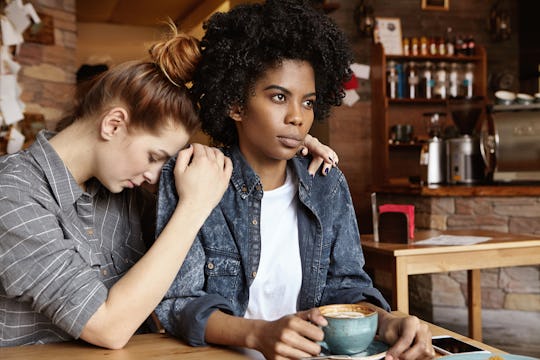 WAYHOME studio/Shutterstock
11 Common Phrases That Can Trigger Anxiety Immediately
Everyone has different anxiety triggers, because the context of your personal experience determines what will conjure panicked feelings for you. But there are some common phrases that can trigger anxiety, and you've probably heard them (and said them) many times in your life.
So how can there be common triggers if everyone has anxiety based on their individual experiences? As Heather Senior Monroe, Director of Program Development at Newport Academy, tells Romper via email, "certain phrases have become stereotyped code for something else," so hearing specific phrases in negative settings over and over again leads you to believe the words can have only a negative meaning. This assumption comes because "we associate it with something negative that happened to us in the past." She points out that humans have a "negativity bias," which, Psychology Today explained, is the scientific explanation for why so many people focus on negative events more than positive ones. So even if someone doesn't intend for a phrase to cause stress, past experiences with certain phrases can lead to anxiety, as our brains are literally hardwired to assume the worst.
The good news is that being aware of what these common trigger phrases are can help you check yourself from panicking as soon as you hear them. Likewise, retiring them from your everyday vocabulary may keep you from accidentally stressing others out when you don't intend to.