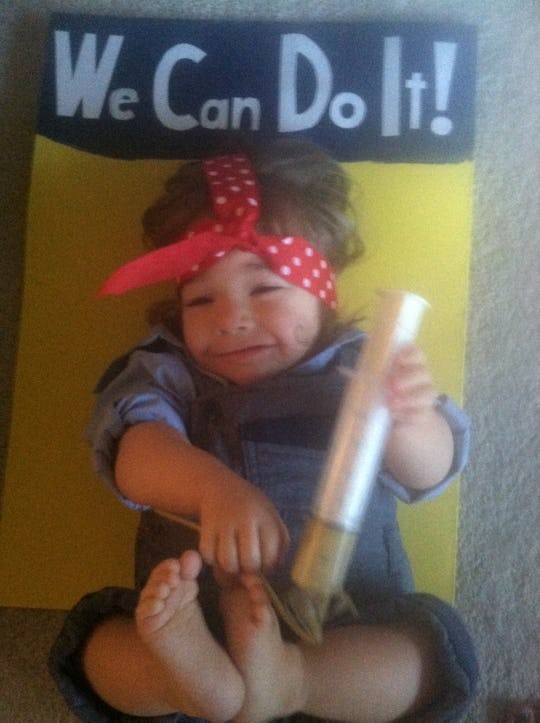 Courtesy of Hillary Savoie
11 Costume Ideas For Kids With Special Needs That Are Fun & Meaningful
It seems to me that there are a lot of elaborate Halloween costume ideas for kids with special needs making the rounds right about now. I personally have a ton had videos and articles showing costumes for kids in wheelcahirs shared with me multiple times through the month of October. And they are, undeniably, really cool.
That being said, most of the parents I know who are parenting complex kids don't have a ton of free time on their hands. Most of us aren't engineers with 3D printers in our basements, you know? At the same time, a lot of us struggle with finding pre-made outfits that work well for our kids, either for their comfort, sensory challenges, adaptive equipment, and/or special interests. So, as with so many aspects of our lives, we find ourselves adapting, making do, and creatively misusing all kinds of things for Halloween costumes, just like we do for toys, feeding implements, and baby equipment.
And, in my opinion, some of these results are pretty amazing.
I myself had homemade Halloween costumes growing up, including a very disheveled fairy with badly made coat-hanger wings. For me, Halloween was a little bit about the costume, but mostly about the candy. Considering that my daughter doesn't eat anything by mouth, the candy is not really motivational for her (still is for me, though). I've tried to make the holiday extra fun for her by going all out on her Halloween costumes. There are no would-be badly made coat-hanger fairy wings for her, though. Instead, I see her costumes as a chance to utilize her adaptive equipment, as well as an opportunity to dress her as strong, capable women she can model herself after.
And I am most certainly not the only parent out there who's taking advantage of their kids super-cool wheels and superpowers to make attainable, creative, and meaningful costumes for Halloween. If at this point you aren't getting excited about your kid's wheels, or wishing your kid had some, read on to check out a few costumes that will get you in the Halloween spirit.
1. School Bus
A lot of children with special needs utilize various pieces of adaptive equipment for mobility that can be an amazing opportunity for a costume. Like, Sim, whose mom is one of my favorite bloggers at What Do You Do Dear, and his awesome wheelchair becoming a school bus! Pretty great right?
2. A Tractor
Then there is Dalton, whose parents built a tractor around his walker out of boxes and vacuum cleaner parts. Such a wonderful costume for any kid, but especially for a kiddo who lives on a farm.
3. E.T. and Elliot
Admittedly, not all of us have the time (or skills) to build something that amazing out of boxes and vacuum cleaner parts. So it's good to remember that adaptive mobility equipment can make a wonderful accessories as is. Check out Jenna in her adaptive tricycle dressed as Elliot, with ET riding in her basket.
4. Carl From Up
One of my all-time favorite kids' costumes is Anthony, of Anthony's Promise, rocking the walker he uses daily for mobility, as the completely lovable Carl Fredricksen from the Pixar movie Up.
5. Doc McStuffins
Many children with complex medical needs spend a lot of time around doctors of the pediatric specialist variety, but they also need to learn about other kinds of doctors. Gracie loves Doc McStuffins, so her parents dressed her up, making her wheelchair into an awesome veterinary mobile.
6. Gorilla Girl
A few years back, my daughter Esmé spent some time with a photographer who specializes in photographing at-risk wildlife in Africa, especially gorillas. She also loves the book Goodnight Gorilla. So, it made sense that she'd be Dr. Dian Fossey, sitting in the lap of a big gorilla for Halloween that year. It was super easy to do, too: I bought an adult gorilla costume and attached it to her chair, dressed her up in an outfit fit for a safari, and we hit the street in search of candy.
7. Batman
A lot of children dress up as what they want to be when they grow up. But are parents to children with special needs who have already faced unbelievable obstacles in their lives, they're already something we'll never be: superheroes. Last year, Dustin, a little boy who sadly passed away last month due to complications from SCN8A Epilepsy, dressed as Batman. Given the battles Dustin fought, it seems fitting that he dress as the Caped Crusader.
8. Spider-Man
Check out Connorman, dressed as Spiderman on top of a building. Connorman shares the same SCN8A genetic mutation as Dustin did. He, too, is fighting big battles and using his superpowers every single day, not just on Halloween.
10. Star Wars Characters
Lulu, who some of you might have read about flying to get her service dog, GiGi, wanted to include Gigi in her Halloween costume this year. So Gigi dressed as Darth Vader to Lulu's Princess Leia.
11. Powerful Women
Last year when I selected Esmé's costume, it was important to me that she dress as a historical woman who had also battled with a disability. I picked Frida Kahlo, one of my all-time favorite artists, and a woman who battled with medical fragility stemming from a bus accident that imposed serious limitations on her mobility and health. Kahlo, who's always been my favorite artist, found a way to turn her challenges, her vulnerability, and her pain into stunning art. What better hero could I ask for Esmé? (And don't forget to check out thecutesyndrome on Instagram to see who Esmé will be this year.)