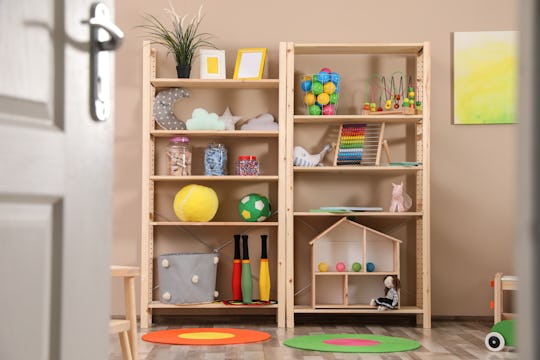 Shutterstock
11 Cute Toy Organization Ideas To Clear Out The Mess Santa Left Behind
Santa has come and gone, and while he may have left unbridled joy and squeals of delight in his wake, the jolly man in red probably also left you with a serious storage problem. Where, oh where, to keep all of the new LEGO/Frozen 2 dresses/Nerf bullets/LOLs/stuffed baby sharks/slime? Well, no need to panic, for I have rounded up 10 totally cute and practical ways to organize all of those new toys.
I reside in a two bedroom apartment, so toy storage is not something I take lightly. I am forced to stay on top of it (or attempt to, at least) lest my family be buried alive in rubber spiders and wooden trains. My strategies are constantly evolving — I've tried plastic bins, fabric bins, drawers, and tubs. I've shoved mini-rubber lungs into baggies, balanced a collection of tiny plastic toilets on shelving, and kicked ukuleles into closets. It can sometimes feel like a Sisyphean task — particularly after Christmas. No sooner have I found a spot to store the Hot Wheels Ultimate Gator Car Wash, when I am faced with where to put the Imaginext Transforming Batbot.
Fortunately, there are lots of tidy, Type A parents out there who have come up with some very clever storage solutions. All of which are far better than my "can we somehow just shoot Hungry Hippo and all of his accompanying marbles into space?" ideas.