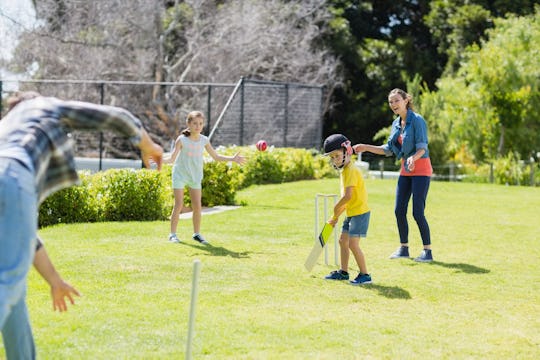 WavebreakMediaMicro/Fotolia
11 Family Exercise Ideas To Keep Everyone Happy & Healthy
Everyone knows exercise is important, but finding time to do it is nearly impossible, especially when you have kids. I can't tell you how many times I've set my alarm to get a workout in, only to have my child decide that was the day she needed to wake up an hour earlier than usual and demand breakfast, Peppa Pig, and couch snuggles instead of letting me be alone with my weights. It's so frustrating that I've now focused on family exercise ideas because, let's be honest, if mama can't pee alone, why should she expect an hour to work out?
The truth is, I'm not a super hardcore workout person. I like dance videos, aerobics, and going on long walks. Luckily, these things work for my life as a busy work-from-home mom. Suddenly, a 20-minute walk with my kid in the stroller becomes a great calorie-burning exercise, and chasing her in the backyard sends my FitBit into overdrive. It just works for all of us, and it means no expensive gym memberships, no carving out an hour alone every day, and it shows my kid good habits when her dad and I both join in on a workout.
So if you're in a similar boat, here are 11 ideas that can help you figure out the best family exercise plan for you and your little unit. Get as creative as you want — the best part of these ideas is that they don't even feel like exercise.