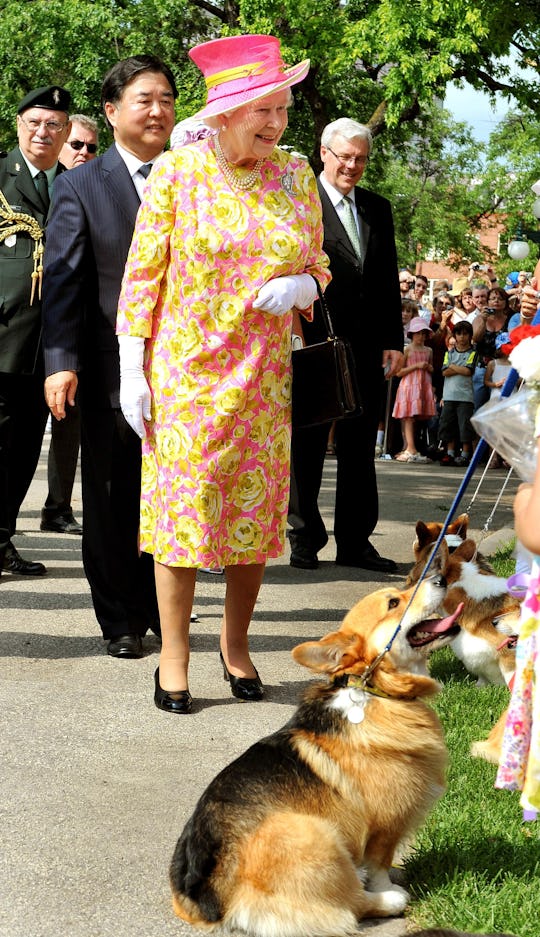 WPA Pool/Getty Images News/Getty Images
11 Royally Fascinating Facts About The Queen's Beloved Corgis
One special dog took over worldwide news earlier this year when Meghan Markle's rescue beagle, Guy, hitched a ride in the Queen's private car. Guy's cute little mug could be seen peering out the back window as the car made its way to Windsor Castle. But the British monarchy is, for now, closely linked with one special breed that the Queen has held close to her heart since World War II. There is even a film coming out about them next spring! So in anticipation of what should be one of the greatest flicks of this decade (and one of the most adorable relationships to witness), here are 11 facts about the Queen's beloved corgis to get you even more pumped for the film's upcoming premiere.
First a little background: The American Kennel Club calls the breed "among the most agreeable of all small housedogs," and says they are herd dogs who are affectionate without being needy. They're small dogs, about 10 to 12 inches high, and have that famous silhouette with a long, low body and large ears, according to the AKC. As the Queen's preferred companions, they may have a distinguished reputation, but I know when I see one I can't help but be filled with the desire to ruffle that soft-looking fur and scratch that noggin.
What's more, corgis apparently make excellent family dogs, according to Rover, and as herd dogs, they can be fun companions since they love following their loved ones around. In fact, Rover lists them as one of the small dog breeds that are great with kids and calls them "affectionate, sweet, and wicked smart."
With all this said, here are a few things to know about the Queen's relationship with these cute and special doggos:
1. She's Had Them Her Entire Life
The Queen met her first corgi, named Dookie, when she was 13 years old, according to Royal Central. Her father brought the dog home for Elizabeth and her sister, Margaret, the site reported. Queen Elizabeth is said to have picked him from the litter because of his long tail, "so that we can see whether he's pleased or not," as the site noted.
She was given her own corgi, Susan, for her 18th birthday in 1944, as Mashable reported, and she has owned 30 of them since then.
2. She Said Goodbye To Her Last Corgis This Year
Nothing lasts forever, not even for a monarch. One of Queen's remaining corgis, Willow, passed away in April 2018 and the Daily Mail reported that she was more upset than she'd been over any of the others. A source reportedly told the paper, "It is probably because Willow was the last link to her parents and a past time that goes back to her own childhood. It really does feel like the end of an era."
And on Friday, Oct. 26, it was reported that the Queen's last corgi, 12-year-old Whisper, had passed away at Windsor Castle, according to People.
3. They Had A Specialized Diet
Brian Hoey wrote a book in 2013 called Pets By Royal Appointment and chronicled the life of the queen's beloved pets, according to Hello! Magazine. The corgis ate every day at 5 p.m. precisely, according to Hoey, and their menu was typed up every day and hung in the kitchen. They ate well, and sometimes the Queen herself even poured gravy over their meal before they began, according to Hello! Magazine.
A former royal chef told the Daily Mail that they would eat everything from chuck steak and cabbage, to rabbit, to poached chicken or liver.
4. The Queen Walked Them Every Day
The corgis took several walks each day but the second of the day, just after lunch, was accompanied by the Queen, as Hello! Magazine reported. Earlier in the day, they reportedly had their own personal footman escorting them around the grounds.
5. They Had Special Shoes
Her dogs were the one area where the Queen let her soft spot show. She even had special rubber-soled booties made for them to protect their feet from gravel as they walked about the palace grounds, according to the Daily Mail. She also made them individual Christmas stockings with all the treats a little dog would love, as the publication reported.
6. A Footman Allegedly Gave Them Liquor
Allegedly, a footman would add whiskey and gin to the corgi's water when the Queen was away from the residence, in an attempt to entertain other staff members, according to the BBC. He was demoted when a post-mortem autopsy found traces of alcohol in the bloodstream of a 14-year-old dog, as the BBC reported.
It should go without saying, but giving alcohol to any dog is "cruel and irresponsible," as the Royal Society for the Prevention of Cruelty to Animals told the BBC.
7. They Once Knocked Over A Footman
The Queen has owned many corgis, sometimes many at one time. The Daily Mail reported Paul Burrell, who was once the Queen's personal footman, claimed the dogs were responsible for knocking him unconscious when they pulled him over while he walked nine at one time.
The most she owned at once was 13, in the 1980s, according to Country Life. Princess Diana even famously called them "the moving carpet," the publication reported.
8. They Came From A Royal Kennel
The Queen has bred her corgis since her very first and those who are born as part of her breeding program are registered under the kennel name Windsor, according to Vanity Fair. She has never sold any of her corgi puppies, but has given them away as gifts, Vanity Fair noted. She's also never allowed her own corgis to compete at shows, the magazine reported.
9. They Lived Like Royals
Nobody was about to take any chances with the Queen's beloved companions. Not only were their meals made in-house by royal chefs, they were treated with homeopathic medicine administered by the Queen herself, according to Best Life. Additionally, the site reported, they rode in chauffeur-driven cars and, when they rode on the royal plane with the Queen, were carried down the stairs.
10. Sadly, One Died On Christmas Eve
In a tragic turn of events a corgi named Dotty was brutally attacked by one of Princess Anne's bull terriers in 2003, the BBC reported. The dog, named Pharos, was thought to have run out of the house to greet Queen Elizabeth's daughter when one of the princess' dogs attacked it. Though the Queen, her daughter, and footmen intervened, the corgi was too injured and had to be put down, according to the BBC.
11. They Had Little Respect For Their Home
Author Brian Hoey wrote in his book, Not In Front Of The Corgis, that the animals were not fully-housebroken, so footmen kept club soda and paper towels on hand to clean up accidents quickly, according to The Daily Beast. They were also been known to chew on the furniture of their palatial estate.
Given this rich and fascinating history, it's not surprising that the Queen's corgis will be celebrated in an animated movie named The Queen's Corgi about a mischievous pup named Rex, which is currently in production. Look for it in theaters in spring 2019.