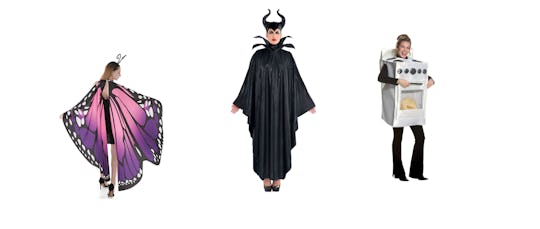 Amazon, Party City, Halloween Express
11 Cute & Creepy Halloween Costume Ideas For Your 1st Trimester
Getting to dress your bump is a sweet bonus to being pregnant during late October. But what if you aren't all that far along yet? These Halloween costume ideas for the first trimester are clever, cute, and (best of all) comfy. Although you may not be showing all that much just yet, there are still a ton of ways to incorporate your pregnancy into this year's costume.
For the first trimester, you probably want a costume that's comfortable and not at all constricting (maybe take a pass on the corsets this year, in other words). Thankfully, there are plenty of costumes, from the elaborate to the super casual, that fit this description. Whether you want a full-on medieval gown or a cool, quippy t-shirt, these Halloween looks are all perfect for the first trimester.
It's also a good time to consider pregnancy announcement costume ideas if the timing is right. If you haven't yet disclosed the pregnancy to your wider circle of friends and family, then a costume that hints at your growing baby can be a super fun choice. (These costumes make for amazing Insta or Facebook pics, too.) Whatever you decide, it's still totally possible to have a fantastic Halloween costume when you're newly pregnant.