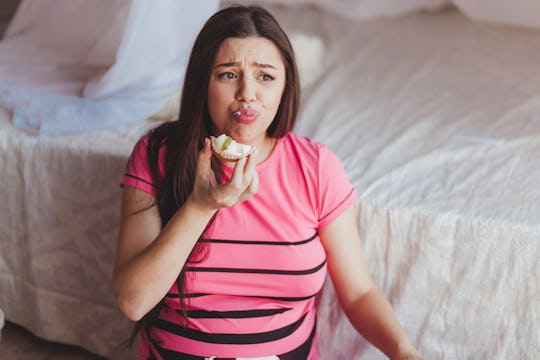 oksana_bondar/Fotolia
11 Husbands Share The Most Disgusting Things Their Pregnant Wives Did
You know what us ladies like to keep under wraps? We're gross. Even if we choose not to be gross, we're as capable of being as gross as any man. Never will our grossness be more obvious than when we are pregnant, though, because if we had a f*ck to give it went out the window first trimester. I asked some of my male friends to share the most disgusting things their pregnant partners did, and ladies? I don't know whether to be proud or shame you. Some of these are pretty gnarly.
Perhaps it comes as no surprise that every single one of the gentlemen I spoke to agreed only to do so only under the promise of anonymity. I genuinely can't tell if this is a gentlemanly act of shielding the identity of their not-so-delicate wives... or if they don't want those not-so-delicate wives to murder them for revealing their gross secrets.
Most of the items listed below were body-related in some way. Now, bodies under the best of circumstances are clunky and full of fluids, gases, and guts. Pregnancy makes every single one of those functions (and a few others that have never happened before and may very well never happen again) come to the fore in horrifying ways. Pregnancy also makes you do weird-ass things because... actually, I don't know why so I'll blame it on the hormones. (Hormones control damn near everything.) If you can't handle a few (extra) body functions and weird habits, well, too late. You should have thought about that before you got your lady pregnant. But ladies, some of you are really pushing it.