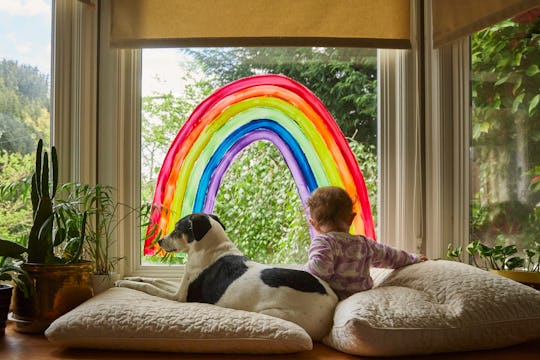 EyeWolf/Moment/Getty Images
Share These Inspiring Instagram Caption Ideas On Rainbow Baby Day
There's a reason why rainbow babies are named for the beauty that comes after a storm. This term is meant for children born after the tragic experience of infant loss, and they're just as beautiful as a miraculous display of colors in the sky. With August 22 marking National Rainbow Baby Day, you might want to celebrate your own little rainbow of joy with a special post on social media (or show your support for others). Here are 11 Rainbow Baby Day Instagram caption ideas that speak to this particularly special holiday.
All of these quotes capture the essence of what it means to overcome tragedy, to fight on and hope for a brighter day. And while no one can know or truly understand a parent's grief over the loss of a child, these thoughtful phrases put the deep and overwhelming delight at having loved and lost then loved again into words.
From Dolly Parton to Oscar Wilde, Charlie Chaplin to Katy Perry, you might be surprised who shows up in this ode to rainbow babies. As wildly varied as this collection is, however, the underlying sentiment is the same: a celebration of life and all of its possibilities, deep pain and overwhelming relief among them.