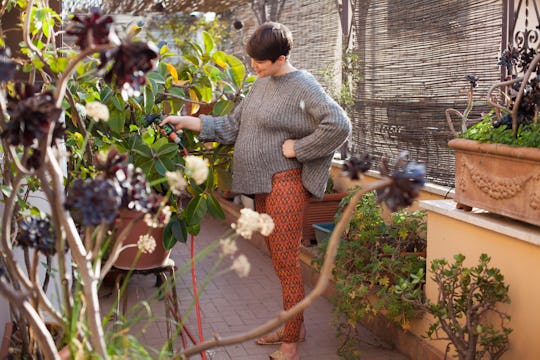 Kathrin Ziegler/DigitalVision/Getty Images
11 Maternity Leggings That Grow With You & Your Bump
It doesn't take long for any pregnant woman to make leggings a part of their daily wardrobe. Comfortable, stretchy, and easy to pair with pretty much anything, a good pair of maternity leggings is probably one of the best things you can invest in throughout your pregnancy. But instead of buying a new pair every few weeks as your belly increasingly gets larger, you should find a pair of maternity leggings that grow with you, seamlessly going from the first trimester bloating period to that third trimester "can I get any bigger?" (you can) feeling.
Maternity clothing may have a long way to go in terms of style, but fortunately there are plenty of great leggings out there to choose from. While some are better for a bigger belly and others will feel more comfortable before you've really popped, there are a few that will make those transitions easily... and probably even fit well postpartum.
Oh, and a word of advice: once you find a pair you love, you might want to buy two or three pairs. It took me only a few weeks into my own pregnancy to realize I was going to be wearing leggings every single day for the foreseeable future. And since they're comfy, offer support, and can be dressed up or down, it works out perfectly to fill your closet.
We only include products that have been independently selected by Romper's editorial team. However, we may receive a portion of sales if you purchase a product through a link in this article.