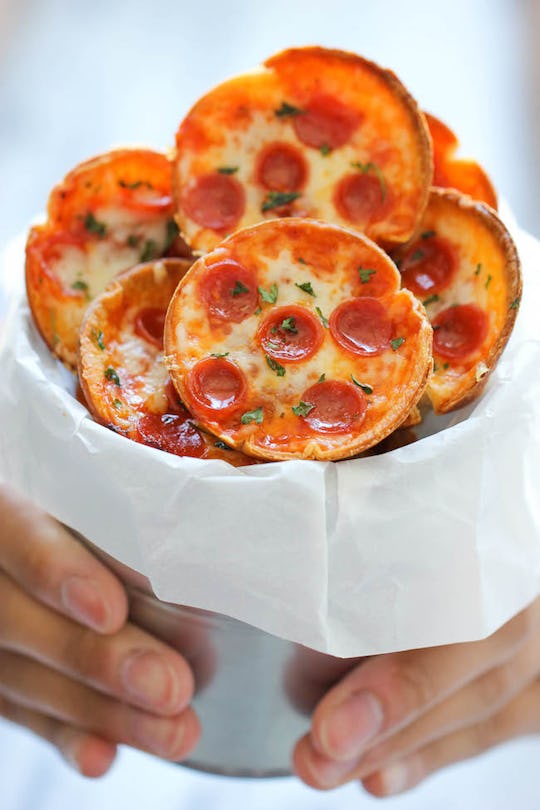 11 Mini Pizza Recipes That Transform Your Favorite Food Into Tasty Bite-Sized Form
Pizza. It's the magic word, right? A few weeks ago, after a horrendous day, my boyfriend sent me a text asking if it was OK if he picked up a pizza on the way home from work instead of me cooking. Is there any other way to answer that other than absolutely yes?  I didn't think so. I mean, a text of a pizza emoji is enough to make any millennial's mouth water. But pizza doesn't have to come in the traditional pie with a hand-tossed crust. There are tons of fun ways to make pizza at home, especially if you're going for a mini pizza recipe.
Mini pizzas have come a long way since the days of zapping a few Bagel Bites in the microwave so you could watch TRL. They can now be made in all different varieties like a pizza version of a cinnamon roll or a perfectly crispy and golden pizza popover. Many recipes also include fresh ingredients or a fun spin on a crust, like using a baked vegetable. With fresh ingredients, as well as your favorite standbys like pepperoni and mozzarella, these 11 mini pizza recipes will upgrade your pizza love in a big way. Make them for football season, for a birthday party, or just because you want pizza you can eat like popcorn during Fear the Walking Dead.