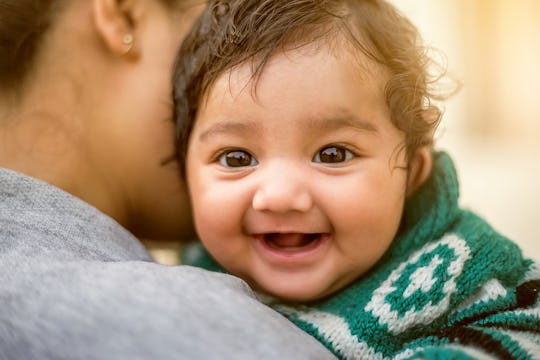 greenaperture/Shutterstock
11 Names For Monday-Born Babies, That You'll Go Over The Moon For
People may not have many good things to say about Monday — end of the weekend fun, back to work and all that — but when you happen to give birth on that day, everything changes. Suddenly, you can say, "Hey, at least one good thing happened on Monday!" If you're one of those lucky parents, you also have the happy option of choosing a name for a baby born on Monday, and let me tell you, there are some really cool choices out there.
The day itself is named after the moon, of course, and the word "moon" is derived from the early English word for "month," according to Gizmodo. But at other points in history, the moon was called Luna after the ancient Roman goddess of the moon. Once it was discovered that other planets had moons, too, the astronomical authorities gave them individual names to distinguish them from the Big One.
Being born on a Monday isn't really as dismal as it may seem at first. As the old nursery rhyme says, "Monday's child is fair of face," so good looks may be in your child's future. Because the moon is associated with love and motherhood, people born on that day are believed to be loving, kind, sensitive, and have a close relationship with their moms, according to Astrospeak.
Your loving and lovable Monday baby should have a name that reflects its nature. Here are a few choices to consider when you're narrowing down your list.